January 2022 Social Media Platform Updates
Thursday 27th January 2022
January 2022 Social Media Platform Updates
Thursday 27th January 2022
The first month of 2022 is already coming to an end! Plenty of exciting and useful features have been released by our favourite social media platforms throughout January, so whether you're a casual user looking to better connect with friends or a brand marketer hoping to boost your audience engagement, take a look through our monthly recap to discover some of the best new arrivals.
Instagram's Reverse Chronological Feed Returns
In response to years of requests from users, Instagram has (finally!) begun testing two different chronological feed options: Favourites, which enables users to view posts from anyone they've added to their Favourites list, and Following, which will display posts from all the accounts a user follows, free from additional algorithm recommendations, in reverse timeline order. The current, standard feed view will now be called Home, and will be the default option when a user opens Instagram, meaning they will have to manually switch over to Favourites or Following each time they access the app.
New Creator Studio Tools on Facebook
Facebook kicked off the new year by adding some fresh features to its Creator Studio. This included a Story Highlight Clips tool, which takes a 20-second preview segment from a full video to post as a Facebook and/or Instagram Story. Once you've chosen the segment you want to highlight, you'll then be able to post that clip to your Story, with a See More CTA button at the bottom of the Stories panel to drive people to your main clip. The second addition is a timeline view for your published Page posts in the app, providing more transparency about how your posts look in users' feeds.
New! Facebook is testing a Story Highlight Clips feature in Creator Studio pic.twitter.com/Yo5icl6sjq

— Matt Navarra (@MattNavarra) January 5, 2022
Recording Spaces on Twitter
Twitter announced that all Spaces hosts can now record their broadcasts on both iOS and Android devices. Users simply need to switch on the Record Space button during the setup process, which will then display a red 'Rec' indicator in the top left of the Space screen. The host is able to stop recording at any time during the chat.
Once a Space is complete, the recording will then be available for public playback on Twitter for 30 days. Hosts will also be able to download the audio file which they can then edit into a podcast or chop up into smaller clips to re-share on social in order to generate more interest and maximise engagement. This update could prove especially useful for users who were unable to attend the Space when it was live.
Another update on Spaces Recording:

The option for hosts to record is now available for everyone on Android and iOS! When starting a Space, tap the "Record Space" switch to have it available for public playback for 30 days once the Space has ended. pic.twitter.com/fYzaOjQJlF

— Twitter Support (@TwitterSupport) January 13, 2022
Profiles Tab on Pinterest
In order to improve creator discoverability, Pinterest has incorporated a new Profiles tab within Pin search - so when a user searches for a keyword or phrase, results will be categorised into three sections: Explore, which displays all results; Shop, which displays shopping results; and Profiles, which displays relevant creator accounts. This means top Pinners now have more opportunities to be found by potential fans and customers, and can be discovered via the types of content they share, rather than just by their name.
New Interaction Features on Snapchat
Snapchat welcomed 2022 by adding a range of new features. Firstly, Poll Stickers enable users to create emoji-focused polls that can be shared via Snaps and Stories (just like the Poll sticker in Instagram Stories, but instead of being able to input your own text, only emojis can be used). The platform also introduced a new function which enables users to reply to individual messages within an ongoing group chat, similar to the option available on Facebook Messenger. Finally, Snapchat unveiled Bitmoji Reactions, which work in the same way as the reaction options in other social apps, but utilise your individual Bitmoji character for a more fun and personal touch.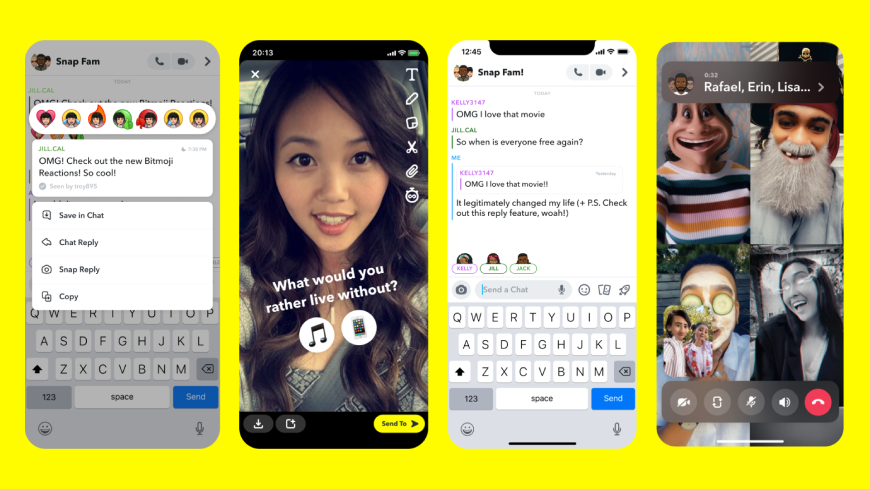 Remix Any Video on Instagram
Back in March last year, Instagram released a tool called Remix, which allows users to record reactive Reels that appear next to the original creator's video in a split-screen style - similar to TikTok's Duet feature. This month, the platform revealed that Remix can now be applied to all video content on the app, not just Reels, increasing users' options for creative response and engagement.
One of Meta's tech comms experts, Alexandru Voica, explained: "We're excited about how our community has embraced Remix on Reels and we hope this new feature gives people new ways to collaborate, showcase their creativity and find inspiration in the vibrant diversity of videos shared to Instagram every day."
We love seeing our community get creative with a Remix moment on Reels. 😎

Starting today, we are rolling out a feature where you can Remix any new public video that you see on Instagram. 🙌

Videos posted prior to this launch will not be affected. pic.twitter.com/X8zH7QV8wS

— Instagram (@instagram) January 20, 2022
Snapchat Shopping Lenses
Snapchatters are now engaging with AR more than 6 billion times per day and 93% of them are interested in using AR for shopping, so the arrival of Shopping Lenses makes total sense. Snapchat says that its users "love trying on, browsing, and shopping for products using Snap's Camera", and the platform's augmented reality lenses (which are different from Filters) make shoppers' experiences more personal, accessible and fun. Thanks to Shopping Lenses, customers can swipe through multiple products in one place and view details about pricing, colour, sizing, and similar items.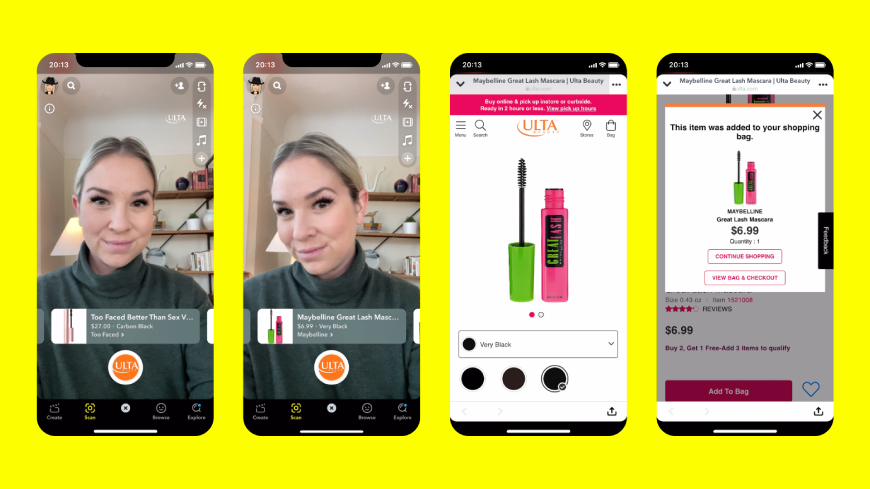 Scheduled Live Streams on Instagram Creator Profiles
Instagram users have been able to schedule upcoming live streams for a while now, but in order to raise awareness in the app, the platform has recently added the ability for creators to promote their future broadcasts with a button at the top of their profile. When tapped, this will provide additional info about the scheduled stream(s) in a pop-up prompt, where people can also sign up to receive a reminder when it's about to begin.
Not only does this mean that anyone who visits a creator's page will now be able to view a clear and cohesive list of their future broadcasts, it also saves creators from having to post an image or Story to let their fans know that a live stream is coming up soon.
Twitter Flocks
Tying in with the reply controls it released in 2020, Twitter is developing a new, variable audience control option called Flocks, which will enable users to share some of their Tweets with a specific group of chosen contacts (up to 150), instead of their entire follower list. When composing a Tweet, a Choose Audience button will appear, and a green banner with the message 'You can see this Tweet because the author has added you to their Twitter Flock' will be displayed below any Flock-exclusive Tweets. This update could be a straightforward way for users to segment their audience and have more niche discussions with particular groups of people, as opposed to broadcasting everything to all of their followers all the time.
Twitter is working on its own Close Friends feature called Twitter Flock https://t.co/mAruOo4mDA

Image: @alex193a pic.twitter.com/yDo1kVApGC

— Matt Navarra (@MattNavarra) January 21, 2022
More Poll Options on Instagram
If you check your Instagram Story stickers menu today, you might see an alert that says 'We've updated the Poll sticker'. Previously, only two voting options could be included in a poll, but now users can add up to four. This is great news for social media marketers who are looking to generate more valuable engagement and add a more comprehensive level of interaction with their followers - plus, it will provide a much simpler alternative for anyone who currently uses the Questions or Quiz stickers to create their own makeshift multi-option polls.
#NewToMe // New poll options for Instagram Stories! Finally we can add more than 3 options… (up to 4)

Do you have this yet? pic.twitter.com/w4ZxEfpecl

— Meg Coffey (@TexanMeg) January 26, 2022
Summary
Have you or your business taken advantage of any new social features this month? What else would you like to see arrive in 2022? If you've discovered a new way to interact with your audience, offer enhanced customer service or boost the effectiveness of your marketing content, share your thoughts with us on Twitter @3sixfivepro.