July 2022 Social Media Platform Updates
Thursday 4th August 2022

by Beth Perrin

July 2022 Social Media Platform Updates
Thursday 4th August 2022
Lots of fresh features were released by Facebook, Twitter, Instagram and more top social media platforms throughout July. We're always interested in discovering how brands, businesses and everyday users can have better experiences online, so join us as we review and recap last month's updates below.
Clearer Analytics for YouTube Shorts
Shorts are the fastest-growing content format on YouTube, so the platform is continuing to add tools and features that will help creators maximise the performance of their short-form clips. At the start of July, the design and layout of Shorts analytics in the main YouTube app was updated, bringing it in line with other Channel analytics tools. More specific insights are now displayed up front, helping users get a quick snapshot of their Shorts data.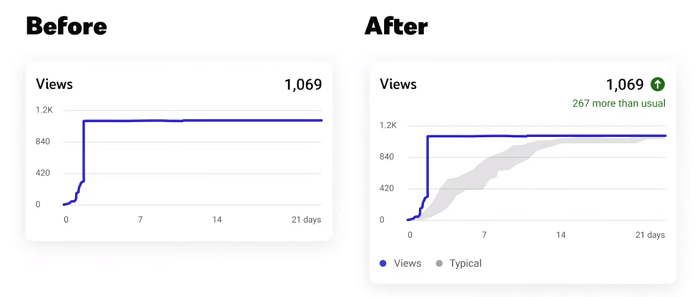 Collaborative Tweets
Following in Instagram's footsteps, Facebook unveiled a new collaboration feature for creators in June - and now Twitter has joined the party too, launching an initial test of collaborative tweets, or CoTweets, which it hopes will "help authors share the spotlight, unlock opportunities for engaging new audiences, and enhance their established partnerships". Just like Instagram Collabs, CoTweets will enable users to invite another account to contribute to a single tweet, which will then appear on both authors' profiles and their followers' timelines. Both contributors' profile pictures and usernames will be displayed in the tweet header to show readers who was involved in the creation of the content.
Share a Tweet, share the cred.

Now testing CoTweets, a new way to Tweet together. pic.twitter.com/q0gHSCXnhv

— Twitter Create (@TwitterCreate) July 7, 2022
Pinterest Product Tagging
Merchants can now make their lifestyle Pins shoppable, thanks to a recent update to Pinterest's Product Tagging feature. If you've created a Pin that features a scene, such as a kitchen or someone wearing an outfit, you can tag it with up to eight products from your claimed website, which, when tapped, will display details such as the product name, price and catalogue image. During the initial test phase, Pinterest found that users showed 70% higher shopping intent on items tagged in scenes and brand images compared with standalone product Pins.
Today, we're is introducing several new innovative merchant features to help retailers see success on the platform, by offering Pinners an even more expansive shopping experience. 🛍️

Get into the details: https://t.co/aNFI4lCxch pic.twitter.com/F3eO8xQCBB

— Pinterest Business (@pinterestbiz) July 7, 2022
Emoji Reactions on WhatsApp
WhatsApp users are now able to select any emoji they like as a Reaction option within their conversations. Previously, only a small selection of emojis were available, but this update provides a more fun and creative way for chatters to express their feelings and interact with messages from friends, family and businesses. Simply press and hold down on the message you'd like to react to and tap the + button at the end of the emoji tab that pops up. This will open the full emoji keyboard where you can then pick any emoji to convey your response.
Since you asked…

... all emoji Reactions are here! We're feeling 🤩😎🙌🤸🎉💚 about it.

Starting to roll out now to Android and iOS pic.twitter.com/Opk7x0n0VP

— WhatsApp (@WhatsApp) July 11, 2022
Inventory Filter on TikTok
In order to give advertisers more control over the content that appears beside their In-Feed Ads on the For You page - and therefore protect their brand image - TikTok has launched a new tool called the Inventory Filter. Powered by advanced machine learning technology, this feature will ensure ads are only displayed beside posts that are appropriate, relevant and adjacent to the style and aims of that business. To give an example of why this is important for brand safety, TikTok explained: "a family-oriented brand might not want to appear next to videos containing even mild or comedic violence, whereas an advertiser promoting an action movie could benefit from showing up in that environment."
3 cheers for 3 tiers 🎉 — TikTok Inventory Filter offers three tiers of inventory and gives brands more control than ever before over where their ads appear. Pretty cool, huh?

Learn more about our latest brand safety and suitability solution: https://t.co/wUNxjOWhoF pic.twitter.com/0ySULajaGE

— TikTok for Business (@TikTokBusiness) July 27, 2022
Alt Text Prompts on Twitter
As we outlined in this blog post, accessibility is important on social media - and one simple way we can all make our content easier for people with sight impairments to visualise is by adding alt text, which is a descriptive caption to accompany an image that can be read by screen readers. In order to remind people to add alt text, Twitter has begun rolling out a series of pop-up prompts that tell users why it's a good idea, and how it can help make the platform more inclusive for those with disabilities.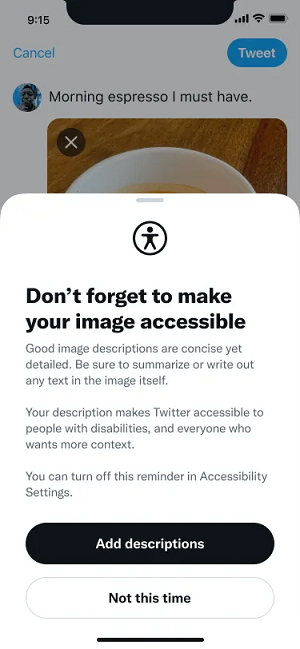 Twitter Spaces Prompt in Replies
Twitter is still keen to get more users on board with its audio rooms feature Spaces, so it recently released a new option to start an audio conversation straight from the replies underneath a tweet. If a user chooses to begin a Space instead of sending a regular reply, the original tweet will be added to the Space title, and any other users who are interested in hearing the conversation can join as listeners. This could be useful for discussions and ideas that can't be clearly expressed via text, as well as opening up a more casual, friendly avenue of conversation on the app.
take the convo from Tweets to a Space

we're running an experiment on Android that gives people who follow each other the option to start a Space from the replies! if you see it, use it & let us know what you think pic.twitter.com/gD2N3xEs9l

— Spaces (@TwitterSpaces) July 13, 2022
In-Stream Payment Options on Instagram
As part of its ongoing eCommerce push, Meta has incorporated its Meta Pay function into Instagram DMs, meaning customers can now make purchases directly from their in-app conversations with businesses. Shoppers simply have to message the store they're interested in, let them know which item they'd like to buy, and explain any extra details they'd like to include, such as personalised elements. Once received and confirmed, the business can then request a payment from the customer and begin processing the order. Instagram users will also be able to track their shipment and ask the business any follow-up questions right there in the same place, creating a streamlined and cohesive shopping experience that doesn't require any additional navigation.
Now you can make purchases and track orders directly in chats with small businesses on @instagram in the US 🛍https://t.co/8tXA0AkhpQ pic.twitter.com/nFzn7d0YDl

— Meta Newsroom (@MetaNewsroom) July 18, 2022
Boosted Reels on Instagram
You've most likely heard of boosted posts on Facebook - now the same option is being rolled out across Instagram Reels, allowing creators to turn their existing Reels into ads with just a few quick taps. To be eligible for boosting, Reels must be less than 60 seconds long and have a 9:16 aspect ratio, and must not include any copyrighted music, GIFs, interactive stickers or camera filters. This could be a great way for brands to increase engagement on Reels that haven't yet received much interaction, and might help businesses assess which types of content perform best organically vs paid.
 

 

View this post on Instagram

 
LinkedIn Carousels
For a long time, LinkedIn users have been creating makeshift 'carousels' on the platform by using its PDF attachment option to upload individual frames, which viewers can then swipe or scroll through. However, LinkedIn has finally decided to launch a proper carousel tool in full, which is slowly becoming available to users across the site. A carousel button will now appear below the post composer box, which takes you through the carousel creation process where you can then choose multiple still images and/or video clips to add to your post. You can also rearrange the order of your uploaded images before publishing.
Create Shorts from Full-Length Youtube Videos
YouTube has begun trialling a new 'Edit into a Short' button which will appear below YouTube videos, enabling creators to convert 60-second clips from their existing long-form videos into Shorts. All of the regular Shorts editing tools will be available (text, timeline editor, filters and more), and if you select a part of your video that's less than 60 seconds long, you can film additional clips using the Shorts camera or upload more videos from your gallery to extend the length if you wish. Any Shorts created via this process will also link back to the original long-form video so that viewers can easily watch the full content too.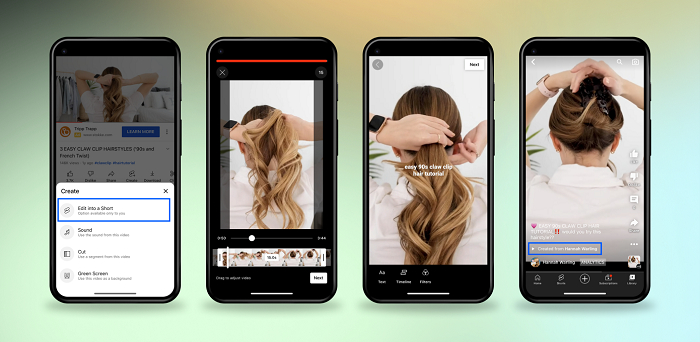 Real-Time Analytics on Pinterest
Pinterest Analytics are now visible in real-time on the mobile app, providing users with data on exactly how their Pins are performing at any given time. These insights have always been accessible via Pinterest's web analytics platform, but bringing them to the app means creators and businesses can now view the same data on the go, making it much easier to check on the progress of a campaign while it's still running – rather than having to wait until it's finished to see a summary. This update will help marketers gauge their audience's overall response to their Pins, and will give them the information they need to improve their future Pinterest strategy.
Small but useful update for analytics on @Pinterest and @pinterestbiz. @MattNavarra pic.twitter.com/o6VKjaSSbx

— Yasser Masood (@YasserM86) July 29, 2022
Summary
Have you or your business benefited from any of these new features over the last few weeks? Which social media platform do you think has been releasing the most innovative and useful tools for its users recently? From strengthening your customer communications to showcasing your products and services in a more effective way, tweet us @3sixfivepro to let us know which updates have helped you boost your presence online.