June 2023 Social Media Platform Updates
Thursday 6th July

by Beth Perrin

June 2023 Social Media Platform Updates
Thursday 6th July 2023
2023 is flying by - we've already passed the halfway point of the year! Now that we've entered July, it's time to take a look at all of the social media updates and new features that arrived throughout June, which was another busy month for our favourite platforms. Whether you're a casual user or a brand marketer looking to shake up your strategy, keep reading to discover some of our top picks from the last few weeks.
AI Chatbot Testing on Instagram
First up - Instagram has begun testing a new AI chat option which appears to be similar to Snapchat's recently released My AI tool. Initial screenshots from app researchers show that it will enable users to start a DM conversation with the bot by typing '@ai' into the message field, where they can then ask it questions in the chat thread. It can also offer advice on how to write more effective messages, and users will be able to choose from 30 different chatbot personalities to find which one they like best.
#Instagram is working on bringing AI Agents (Bots 🤖) to your chats for a more fun and engaging experience 👀

ℹ️ AI Agents will be able to answer questions and give advice.
You'll be able to choose from 30 different personalities. pic.twitter.com/4eWLBbvs8w

— Alessandro Paluzzi (@alex193a) June 5, 2023
Extended Edit Time for Twitter Blue
One of the main benefits of Twitter Blue is that subscribers can edit their tweets after hitting send. Previously, this could only be done for up to 30 minutes after a tweet was published - but at the start of June, an update was released which extended this time period to one hour, giving users a little more time to amend their content if needed. Subscribers can make a maximum of 5 edits within this time period and can only edit their tweets on the same device from which they originally published them.
Blue subscribers now have up to 1 hour to edit their Tweets.

— Twitter Blue (@TwitterBlue) June 7, 2023
DMs for Company Pages on LinkedIn
Up until recently, only individual LinkedIn users could send and receive DMs on the platform, but now, thanks to a new feature called Pages Messaging, members can contact companies too. Explaining the update, LinkedIn said: "We want to make it as easy as possible for marketers to reach future buyers and for those future buyers to connect with brands. [This tool will] help power a two-way conversation, so when a member has questions about a product or company, they can reach out directly to the brand through their Page". Page admins will then be able to respond to incoming messages as the Page.
This update might result in a lot more people messaging companies to ask about opportunities, which could end up being a fairly big task for larger companies. So, if your brand hasn't yet implemented a Community Management strategy on LinkedIn, now is the time to get started!
WhatsApp Channels
A new feature called Channels has been introduced on WhatsApp, which the platform has described as a 'one-way broadcast tool' where brands, creators, celebrities and even local officials can send text, photos, videos and more to anyone who signs up to receive them. It's very similar to the Broadcast Channels option on Instagram, offering an extra way to maximise exposure on the platform. Channel updates appear in a dedicated tab on the app, keeping them separate from your personal chats and calls. While some features of channels might feel familiar to regular WhatsApp chats, it's important to remember that they're a one-way broadcast rather than a conversation - followers can't reply or interact with channel admins.
🧵 What are WhatsApp Channels?

WhatsApp Channels are a simple and private way to get updates from people and organizations you care about.

Channels sit within your Updates tab, separate from chats with family and friends.

— WhatsApp (@WhatsApp) June 8, 2023
Additional Creator Tools on Facebook
Meta introduced a range of new tools for creators and those who use Professional Mode on Facebook, starting with an Inspiration Hub in the Professional Dashboard where users can browse popular Reels, hashtags, topics and music to gather ideas for their own content. This is accompanied by a new Templates Hub in the Reels composer flow, which will make it quicker and easier for creators to make Reels using formats and elements that are currently performing well on the platform.
A daily checklist has also been added for ProMode users, which will provide useful tips and guided actions for creators to help grow their following and increase engagement. Plus, Reels insights that were previously only available within Meta's Business Suite have now been brought to the Professional Dashboard, giving creators a faster way to view their Reels results. These include reach numbers, engagement data, amount of new followers gained from specific Reels, and retention graphs showing how long viewers watched each Reel.
New Broadcast Channels Options on Instagram
Instagram's Broadcast Channels feature has now been rolled out globally to all users - and some new options have been added. Firstly, question prompts will allow members of the channel to submit responses to a question asked by the channel owner, who can then choose to reply to their favourite answers. This will facilitate direct audience participation in-stream, meaning channels are no longer just a one-way method of communication. Secondly, a range of new control tools have been introduced, such as the ability to set a channel expiration date and add a moderator to assist in managing the channel.
Thirdly, a dedicated channels tab is being tested within the DM inbox, which will highlight the channels that a user has joined and will recommend related ones. And finally, channel members can now share a message preview from a channel to their story, in order to give their followers a sneak peek of the kind of content that is being shared in that channel.
📣 Broadcast Channels Launch 📣

Today we're expanding Instagram broadcast channels globally.

We're also starting to test these new Channels features:
- Questions
- Channels Tab in Inbox
- Moderators
- Expiring Channels
- Share to Stories pic.twitter.com/vVOIzze6kX

— Adam Mosseri (@mosseri) June 15, 2023
Twitter Blue Highlights Tab
Twitter Blue subscribers now have access to a Highlights tab on the app, which enables them to showcase their best tweets. The tab appears on the bar at the top of users' profiles, alongside the 'tweets', 'replies' and 'media' sections. To add a tweet to the Highlights tab, simply tap or click on the three dots at the top right of the tweet then choose Add/Remove from Highlights. Regular users will also be able to see this option, but they'll be diverted to the Twitter Blue sign-up page if they tap on it.
we all love a good hit post

feature yours in a separate tab on your profile by adding them to your Highlights ✨

this is now available to verified users on iOS, Android and web

— Twitter Blue (@TwitterBlue) June 28, 2023
25,000 Characters for Twitter Blue
First it was 4,000, then it was 10,000… and now the tweet character limit for Twitter Blue subscribers has been extended once again to 25,000, allowing users to share even more long-form content. Up to 4 images can also be added, giving long tweets more of a blog post feel. However, only 280 characters will be displayed on the timeline, with the rest of the content hidden behind a clickable 'See more' button, so don't worry - your feed won't be taken over by super long tweets that fill the whole screen! What do you think? Was Twitter better when it focused solely on brevity and short-form content, or do you like having the option to write longer posts?
Two new features for writers: you can now post up to 25,000 characters and add up to 4 inline images. Subscribe to access these new features: https://t.co/QfWHdHZtsq

— Twitter Write (@TwitterWrite) June 29, 2023
TikTok Removes TikTok Now
TikTok Now, which launched in September last year and was essentially TikTok's version of BeReal, has been discontinued by the platform - suggesting that the BeReal trend is fading out (even BeReal itself has seen a decrease in usage this year, following its rapid rise to fame in summer 2022). In some countries, TikTok Now was an option within the main TikTok app, while in others it was a completely separate app, but for now only the in-app option is going to be removed.
TikTok is killing its BeReal clone TikTok Now pic.twitter.com/8uPn88HQV4

— Matt Navarra (@MattNavarra) June 27, 2023
New Ad Options on WhatsApp
Some new ad tools have been introduced on WhatsApp which will help businesses capitalise on the rising use of private messaging online. Firstly, a new option will enable brands to launch paid promotions on Facebook and Instagram without needing a Facebook page or Instagram account, which will be beneficial for those that run their entire operation on just WhatsApp. These ads will include a WhatsApp CTA so people can tap through to start messaging the brand or business.
The second new feature will allow businesses to schedule automatic, personalised messages for their customers (such as appointment reminders or sale notifications) instead of having to send them manually. These messages will incorporate the customer's name, will feature a customisable CTA button, and can be sent to specific customer lists - such as VIP customers or top fans.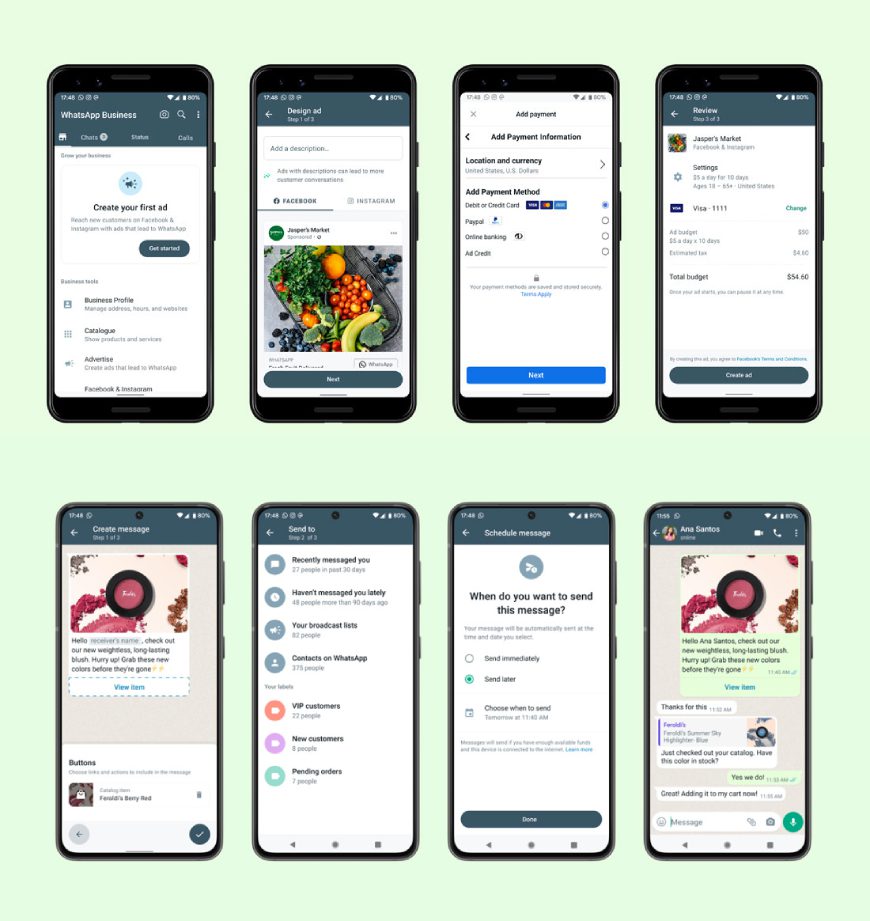 Summary
We're looking forward to seeing how brands and creators will incorporate these new features into their social media strategies over the coming months. Are you planning to utilise any of them to step up your content or improve your standard of customer support? If you've given any of these updates a try over the last few weeks, we'd love to hear from you - tweet us @3sixfivepro to let us know which ones you've been enjoying.