November 2022 Social Media Platform Updates
Thursday 1st December 2022

by Beth Perrin
November 2022 Social Media Platform Updates
Thursday 1st December 2022
November was slightly quieter than previous months in terms of social media platform updates, with Elon Musk's chaotic Twitter takeover dominating the industry's headlines instead - but nonetheless, a handful of great new tools were still released by WhatsApp, Snapchat, Instagram and more. We're always on the lookout for fresh features that brands, businesses and casual users can try out and enjoy, so read on to discover some of our top picks from last month.
Snapchat BigCommerce Integration
At the start of the month, eCommerce platform BigCommerce announced a new integration with Snapchat, which will enable merchants to display and sell their products directly in Snaps. Sellers can now automatically sync their product catalogue to Snapchat via the BigCommerce dashboard and install the Snap Pixel so that they can track any subsequent actions taken by Snapchatters on their website. It's currently only available to BigCommerce users in the US, but will be expanded to more markets next year.
👻 Big news: We've partnered with @Snap to launch Snapchat for BigCommerce!

Now, U.S. BigCommerce merchants can integrate stores with Snapchat to sync product catalogs and create immersive ad campaigns, reaching 363M daily active Snapchat users: https://t.co/Q3qSeoTtcX pic.twitter.com/o73zIX2HtA

— BigCommerce (@BigCommerce) November 1, 2022
Native Instagram Scheduling
In our October platform updates blog post, we mentioned that Instagram was testing a new scheduling feature - and now it's being rolled out to all users with a professional account (aka creators and businesses). The tool allows users to schedule photos, carousels and Reels directly in the app, up to 75 days in advance. Simply tap on 'Advanced Settings' before sharing a post, followed by 'Schedule this post'. Then select the time and date you want it to go live and hit 'Schedule'. Users can view their scheduled posts - and reschedule them if needed - through the Scheduled Content section on the menu.
 

 

View this post on Instagram

 
Pinterest Shuffles App
Pinterest's standalone app, Shuffles, which initially launched as an invite-only platform back in August, has now been made publicly available on the iOS App Store. Described by Pinterest as "a collage tool that allows you to create, publish and share visual content", Shuffles enables users to layer various photos of objects over each other in an artistic display, which can then be animated and set to music. Users can either select images sourced from Pinterest or take their own - then, if they choose to share their creations across to another platform, product images will link back to Pinterest to encourage clicks through to the site, where they can then be purchased if they're available for sale on a retailer's website. If a user decides to upload one of their own images instead of one from Pinterest, the platform will scan for similar items.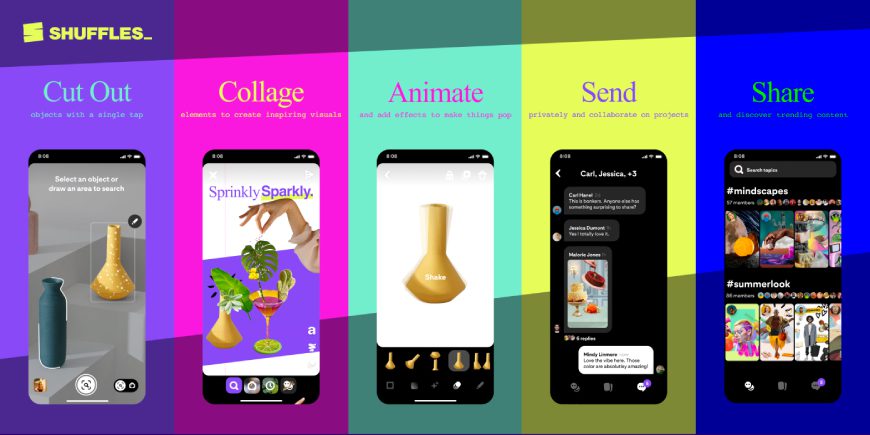 Add Music to Instagram Photos
Perhaps in response to TikTok's recent launch of Photo Mode, Instagram has introduced the ability to add music to still image posts. A new 'Add Music' option now appears beneath the Location section in the post composer, where users can either search for a track to add to a post, or browse the 'Trending' and 'For you' lists. Users can select a segment of between 5 and 90 seconds of their chosen song.
 

 

View this post on Instagram

 
YouTube Shorts Product Tags
YouTube launched a test of a new monetisation option for Shorts, giving selected creators in the US the ability to tag shoppable products within their videos. The Financial Times reported that this is an 'affiliate marketing' scheme whereby a commission is paid to creators that sell products. YouTube, the seller of the item, and the creator will each take an undisclosed cut of the sale. Due to the rapid nature of short-form video content - and therefore the inability to add pre- and mid-roll ads - it's tricky for social media platforms to find ways to incorporate monetisation, so taggable products could be the way forward.
WhatsApp Business Search
A new WhatsApp update will enable users to search for businesses by category (such as travel or banking) or by name, directly in the app. The search function will include a mini map so users can check out nearby businesses, along with category filters and verified business accounts, making it easier to access the various in-app shopping options. A seamless checkout experience is also being tested, allowing selected users to make secure payments directly within chats using their credit or debit card. This means businesses and customers can complete transactions without having to go to a separate website, open another app or pay in person.
During today's WhatsApp Business Summit in Brazil, our team announced an exciting upcoming feature that will allow customers to search your business directly on @WhatsApp. Intrigued? Read more about it here 👇https://t.co/QnieWi1RsJ

— WhatsApp Business (@whatsappbiz) November 17, 2022
Message Yourself on WhatsApp
WhatsApp has begun rolling out another new option which enables users to send a message to themselves, which could be handy for keeping notes, setting reminders and bookmarking links (or just reminding yourself of a great meme you want to send to a friend later!). Users will be able to choose their own contact info from the top of the contacts list, then tap on it to open up a chat window as normal.
Say 👋 to 🆕 Message Yourself.

You can now send reminders 📝, inspiration ☁️, and everything in between to yourself in one easy-to-find place synced across all your devices. pic.twitter.com/4dahlgXysi

— WhatsApp (@WhatsApp) November 29, 2022
Native LinkedIn Scheduling
Some LinkedIn users are now able to access a new native post scheduling tool, which has been in an internal test phase over the past few months. Simply tap on the clock icon in the post composer to view the scheduling options, then enter a date and time for when you want your post to go live - up to 90 days in advance. Then tap 'Next', followed by 'Schedule', and your post is ready to go. Just like Instagram's scheduling feature, you can also view and manage your scheduled posts in the app.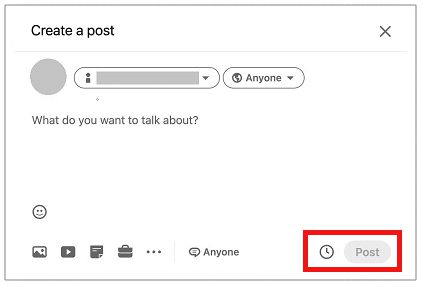 Recommended Tweets
In order to make it easier for users to discover conversations and accounts that may interest them, Twitter expanded its Recommendations feature to everyone at the end of November. Described by the platform as "personalised suggestions that are shown to you based on actions you take on Twitter", Recommended Tweets are based on signals such as interests you've outlined on your profile, Topics you follow, Tweets you engage with and even Tweets liked by people in your network. As a result of this, Twitter users can expect to see a lot more content from people they don't follow appearing on their timelines. However, a new X button has been added, which can be tapped to hide a Recommendation, and the user can send feedback to Twitter explaining why it wasn't relevant or interesting to them.
What do you think? Are recommended posts enjoyable on social media, or would you rather stick to seeing content from the accounts you've chosen to follow?
We want to ensure everyone on Twitter sees the best content on the platform, so we're expanding recommendations to all users, including those who may not have seen them in the past.

You can learn more about them, and how to best control your experience: https://t.co/ekYWf57JSc

— Twitter Support (@TwitterSupport) November 30, 2022
Summary
Which new features will you or your business be using as we head into the festive season? Social shopping tools are a great choice for eCommerce brands - especially when partnered with gift guides and Christmas deals - while native scheduling can help social media managers stay organised and keep track of their content calendars during this busy period. Feel free to tweet us @3sixfivepro to let us know which updates you're planning to take advantage of over the coming weeks.