3sixfive's 2021 Highlights
Thursday 6th January 2022
3sixfive's 2021 Highlights
Thursday 6th January 2022
2021 was another rollercoaster year, thanks to the ongoing uncertainty and restrictions presented by the COVID-19 pandemic - and things are still far from back to normality, even now! However, despite the challenging circumstances, we were able to celebrate lots of wins and positive moments as a business nonetheless. Join us as we recap our 2021 highlights below.
We Became an Award-Winning Agency
In June, we were thrilled to win Communication Management Specialist of the Year at the Prestige Awards. The judges said: "We praised 3sixfive's personal and reactive approach to social media management, which allows them to develop a true connection between the brand they are managing and their customers. This, in turn, not only builds greater brand awareness, it builds a greater sense of trust between the brand and customer, which leads to more sales and higher turnover".
New Clients Arrived
Plenty of excellent brands boarded with us last year to receive our assistance across social media. We'd like to give them all a warm welcome to the 3sixfive family - we couldn't be happier to help!
• Sushi Daily joined us for Community Management on Instagram, Facebook, Twitter and TikTok
• Côte joined us for Community Management on Instagram, Facebook and Twitter
• Krispy Kreme UK/Ireland joined us for Community Management and Live Chat on Facebook, Twitter and Instagram
• Anglia Ruskin University (ARU) joined us for Out of Hours Community Management on Facebook, Instagram, Twitter and WhatsApp
You can view all of our current clients here.
Live Chat Success for Krispy Kreme
As mentioned above, we began working with Krispy Kreme UK & Ireland, including a trial of our Live Chat service which commenced in November and produced exceptional results. In the first month we sent a total of 10,104 replies on behalf of the brand, averaging 338 messages per day - plus, an impressive 1,293 comments of praise were received from shoppers thanking us for the support we provided.
We were also delighted to receive this brilliant testimonial from Emma Colquhoun, the brand's CMO, for our ongoing work: "[3sixfive] brings passion, brand love and an always-on approach that is simply a great extension to our own in-house team. We can now have conversations with our fans just when they want us to, 365 days of the year. As a result we have already seen a great step change in consumer engagement and look forward to growing engagement, NPS, love and therefore ultimately value for consumer and business in the weeks and months ahead." Thanks Emma, we're glad to hear it!

Human Insight for Kwik Fit
Kwik Fit have already been on board with us for Community Management and Review Management for a number of years, but in 2021 they decided to take advantage of our Human Insight service too.
The brand's Digital Marketing and CRM Executive, Rebecca Taylor, spoke about the benefits of Human Insight in her fantastic video testimonial, explaining: "Our previous reporting focused predominantly on public comments, so things like DMs or private messages weren't particularly taken into account when we were looking at trends across the business. Human Insight has given us a much better picture of the brand health of our business on social, as well as being able to look at specific areas where we potentially can put social content out that addresses common enquiries."
We Launched Our New Website
Following months of hard work and input from many different members of the 3sixfive team, our new website was finally ready for launch in October. While our old site served its purpose, it had been in need of an upgrade for some time - we wanted to showcase our services, clients, case studies and blog posts in a more cohesive way and make it easier for visitors to learn about what we offer and get in touch with us. Not only did we overhaul all of the website's content and copy, we also gave it an aesthetic makeover and implemented a new design to bring our branding style up to date. Once you've finished reading this post, take a look around and tweet us @3sixfivepro to let us know what you think.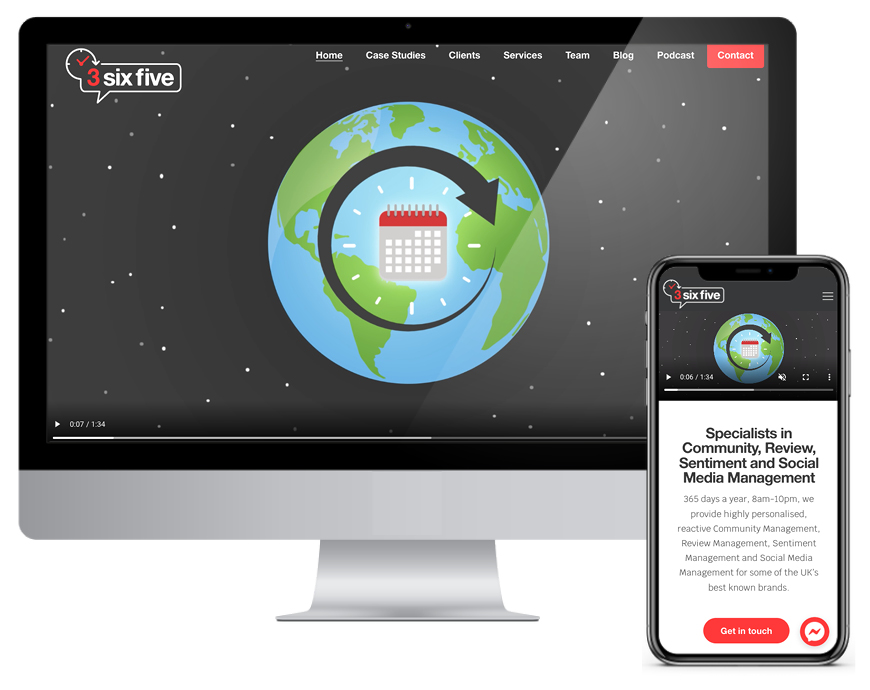 Our Podcast Gained Popularity
Our podcast, 3sixfive Talks Social Media, reached 3,400 downloads - plus, we recorded our first video episode which we uploaded to our brand new YouTube channel where we now share our weekly episodes, as well as client interviews, information about our services and more. Thank you to all of our listeners and viewers for your support!
Other Top Stats and Achievements
• We welcomed 5 new team members
• We responded to 60,204 messages for Papa John's Pizza between February 2020 and February 2021 - that's 17,255 more than the year before
• Our average number of monthly review responses for wagamama reached 450
• Our average number of daily review responses for Kwik Fit reached 185
• We increased Kwik Fit's online reputation score by 23%
• We were pleased to assist once again with Kwik Fit's annual #Kwikmas campaign - a series of daily festive giveaways throughout December, where we sent a total of 26,115 responses across Facebook, Twitter and Instagram
Summary
Overall, 2021 was another unusual but exciting year, and we're immensely proud of everything we accomplished as a company. We can't wait to see what 2022 has in store for us and our wonderful clients, and we're looking forward to sharing plenty more great tips, success stories, agency information and case studies over the coming months. Looking to outsource your social media to a team of experts this year? Contact us to find out what we can do for your business!