September Social Media Platform Updates
Thursday 23rd September 2021

September Social Media Platform Updates
Thursday 23rd September 2021
The end of September is just around the corner and it's time to review the top new features released by our favourite social media platforms this month. For both individual users and businesses, plenty of useful updates have arrived to boost our online experiences. Read on to discover which ones might be applicable to you or your brand!
Super Follows on Twitter
Twitter officially launched its new Super Follow option, which lets selected creators charge a monthly fee for exclusive extra content for their biggest fans. Users can set a subscription cost of $2.99, $4.99 or $9.99 per month which enables their most engaged followers to access bonus behind-the-scenes posts and media, and once a user has signed up to allow Super Followers, they'll be able post special hidden tweets that can only be seen by their subscribers. Twitter's Design and Development team say the feature will build on four key principles: Fun, Fame, Feeling the Love and Funds. The tool is currently limited to US users who have 10K or more followers, are at least 18 years old, and have tweeted at least 25 times within the last 30 days.
look for the "Super Follow" button or icon on a creator's profile and tap it for a preview of what they offer and their monthly subscription pricing. pic.twitter.com/hUp3O5OApL

— Super Follows (@SuperFollows) September 1, 2021
LinkedIn Livestream Events
LinkedIn Learning, the platform's education and skill building tool, was introduced earlier this year - and this month a new livestream session feature was added to it, called Office Hours. Before the update, instructors could only pre-record and upload courses for learners to watch later, but thanks to its arrival they can now host live events for viewers to attend. LinkedIn explained: "Throughout the pandemic, we've seen learners embrace social learning features like Q&A, where they can ask the LinkedIn Learning community a question and get answers from instructors, their network, or their co-workers. With Office Hours, learners are able to stay on top of industry trends and interact with experts and fellow learners in real-time by posting questions, comments and reactions."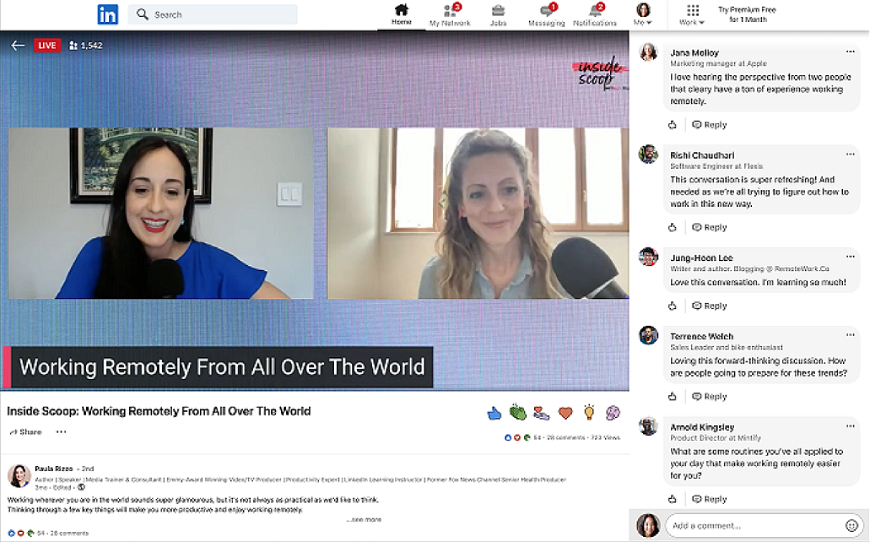 Safety Mode on Twitter
Mental health is an important consideration on social media, and another recent update from Twitter is aiming to help users feel more at ease on the platform by minimising unwelcome, unkind and harassing replies to tweets. When activated, Safety Mode will temporarily auto-block any accounts that use harmful language or send repetitive and uninvited responses or mentions towards a user, offering a seven-day shield against barrages of negative or spammy comments. Hopefully the feature will only be used for its intended purpose - but as many Twitter users have pointed out, there is a risk that it might end up being abused by those who want to share controversial opinions or offensive material, then avoid accountability by quickly switching it on in order to prevent any subsequent discussion. What do you think?
Introducing Safety Mode. A new way to limit unwelcome interactions on Twitter. pic.twitter.com/xa5Ot2TVhF

— Twitter Safety (@TwitterSafety) September 1, 2021
Instagram Map Search
Most likely in an attempt to catch up with Snapchat's My Places feature, Instagram has launched a live test of a similar tool called Map Search. Currently only available in Australia and New Zealand, it enables users to discover businesses and places of interest on the in-app map, as well as public posts tagged at that location. It displays a map icon in the top right corner of the Discover tab, which, when tapped, connects through to the Map Search, highlighting nearby cafés, restaurants, shops, entertainment venues and more. Businesses who choose to show up on the map can give details about their opening hours, address, prices and of course a direct link to their Instagram page. 200 million businesses use Instagram each month and 90% of its users follow at least one business, so it certainly makes sense for the platform to be expanding its business directory and adding more promotion options.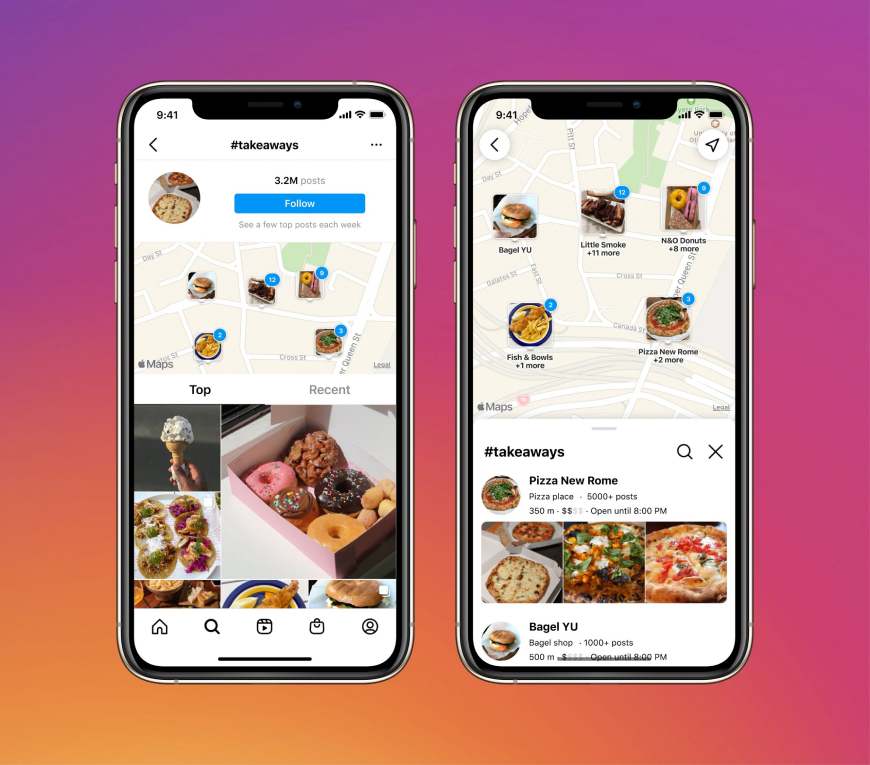 WhatsApp Business Directory
And speaking of business directories - Head of WhatsApp, Will Cathcart, also announced the arrival of the app's own Businesses Nearby feature. It lets users view a list of active local business profiles, where brands can showcase their products and facilitate direct contact via messaging and phone calls. To provide reassurance following recent concerns surrounding WhatsApp's level of privacy and security, Cathcart confirmed: "We've built this in a private way: we're not logging your location or what businesses you browse."
We're kicking this off in São Paulo which is home to millions of small businesses. For those who aren't in São Paulo to try it out, here's what it looks like: pic.twitter.com/cMu9DwlUYw

— Will Cathcart (@wcathcart) September 15, 2021
Shareable Idea Pins
Idea Pins, Pinterest's version of Stories, can now be re-shared to both Facebook Stories and Instagram Stories via a new 'Send' option. Shared Idea Pins will have a Pinterest watermark on them, so that users viewing them on other platforms can see where they were originally posted. Re-sharing the same content across social networks can sometimes get repetitive, but the watermark will hopefully encourage users to tap through to the poster's Pinterest profile and see the rest of their content.
This could be a great way to maximize awareness of your Pinterest presence https://t.co/IS77wgfyOk

— Social Media Today (@socialmedia2day) September 21, 2021
Business Conversation Tools on Facebook
Facebook rolled out a selection of new tools to help businesses establish more direct connection with prospective customers, focussing specifically on personalised messaging. Firstly, when a brand chooses the Send Message objective for an ad, all of the messaging platforms where they are available to chat will be selectable, whether that's Messenger, Instagram DMs, WhatsApp or others. Then, Facebook's systems will detect the messaging platform used most often by the user viewing the ad, before prompting them to get in touch via that service. Similarly, businesses can now add a WhatsApp click-to-chat button to their Instagram profile, enhancing contact opportunities even further.
Additionally, on its main app, Facebook is also testing another new option that will enable businesses to select 4 or 5 questions to ask consumers prior to starting a chat, in a similar manner to the existing option on Messenger. This tool will help brands streamline their response processes by providing more context ahead of the conversation and will likely lead to more satisfied customers, as they'll be able to get straight to the point of their query without having to provide lengthy paragraphs full of information.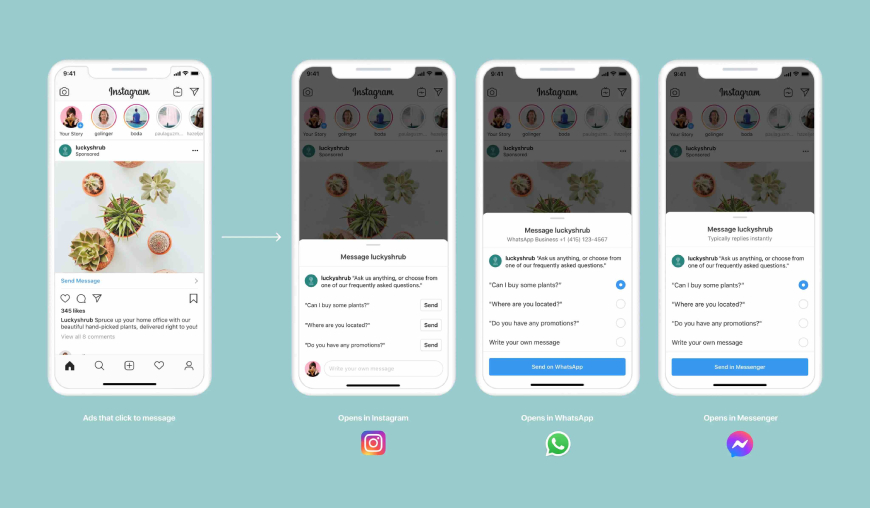 Summary
What have been your favourite new arrivals this month? We're always on the lookout for fresh ways for brands to engage and interact with their audiences as well as updates that make our social media experiences more intuitive, so feel free to tweet us @3sixfivepro and let us know if we've missed anything!