Social Media Trends for 2022
Thursday 16th December 2021

Social Media Trends for 2022
Thursday 16th December 2021
2021 has been another whirlwind year and just like in 2020, we've seen an ongoing shift in the way brands promote their products and services, connect with their audiences and interact with their customers on social media. With the end of December fast approaching, it's time to take a look at some of the top trends and predictions for 2022.
Social Commerce Will Continue to Grow
The ability to make purchases directly through social media, also known as social commerce, has been on the rise throughout 2021, and is set to gain even more traction in 2022. In fact, it's predicted that the overall social commerce market will see a 37.9% growth in the coming year, with the total number of users increasing by 12.9%. A staggering 97% of Gen Z members say that social media is their top source of shopping inspiration, while 62% of 13-to-39-year-olds agree that they are interested in purchasing items straight from their social feeds. Here are a few of our favourite social shopping tools:
• Instagram's Shop feature, which enables users to tag products in posts, use the Shopping Sticker in their Stories and access the Live Shopping element for live broadcasts.
• TikTok Shopping via the app's Shopify partnership, which also encompasses a Live Shopping facility.
• Facebook Shops, including its Marketplace and Checkout tools.
Even Twitter has been trialling its own eCommerce section called the Shop Module, a dedicated space at the top of a profile where businesses can showcase their products. Twitter says the feature is in "very early explorations", but it's certainly worth keeping an eye on how it develops in 2022.
As a brand marketer or business owner, your goal for the year ahead should be to create frictionless shopping experiences where your target audience can get everything they need in one place, without having to click or tap away to a separate platform to checkout their items.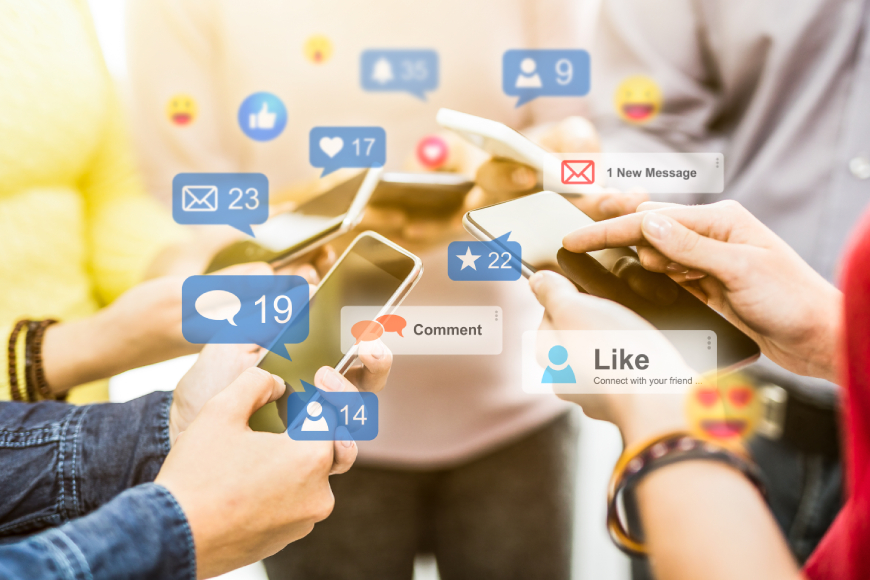 TikTok Will Stay on Top
TikTok was the most downloaded app of 2021, achieving an impressive 745.9 million installs and reaching 1 billion monthly active users. When combined with the platform's wide range of business tools and advertising capabilities, this huge audience size means TikTok should be on every brand's radar when compiling their 2022 marketing strategy.
Talkwalker's CMO Elena Melnikova explained: "Lockdown supercharged TikTok. Having grown so quickly, brands can't afford to ignore the platform's potential. With an audience dominated by Millennials and Gen Z - tech-savvy generations, demanding innovation, creativity, personalisation and transparency - TikTok will help connect brands to a younger, more creative demographic."
Plus, TikTok has already inspired other social media platforms to launch their own short-form video features (such as Instagram Reels and YouTube Shorts) so we can expect to see a trend of copycat features popping up across the board each time it releases something new.
Video Content Will Boom - Especially Short-Form
It's estimated that video content will account for 82% of all Internet traffic in 2022, most likely explaining why 69% of marketers who haven't yet used video as a part of their strategy say they are planning to incorporate it next year. Social media videos already generate 12 times more shares than text and images combined, and with attention spans continuing to decrease among Internet users, this figure is expected to climb even further in the future.
Speaking of attention spans - as mentioned above, short-form videos, aka those up to 2 minutes and 30 seconds in length, will take centre stage next year, meaning it will become increasingly important for creators to convey their messages quickly and efficiently in order to maintain their audience's interest. 68% of people will happily watch a business video if it's less than a minute long, and according to AdAge, "if you have not fully engaged your audience after the first 30 seconds, you've likely lost 33% of your viewers, and after one minute, 45% of viewers have stopped watching", so brands should take this into consideration when choosing the duration of their video content.
Social Audio & Live Podcasting
Clubhouse and Twitter Spaces made their way to the forefront of social audio this year, offering a new avenue for brands and creators to explore and connect with their audiences. Almost half of marketers plan to invest more in live audio chat rooms such as these in 2022, and users have described them as "free-flowing podcasts where you can jump in and out of different rooms, listening to or joining in with conversations on a vast range of topics". It's worth noting, however, that social audio isn't a sales channel or a place for rapid audience growth - it's all about providing extra value to your existing fans by discussing interesting, meaningful subjects which generate conversation, offer insights and share expertise with your listeners.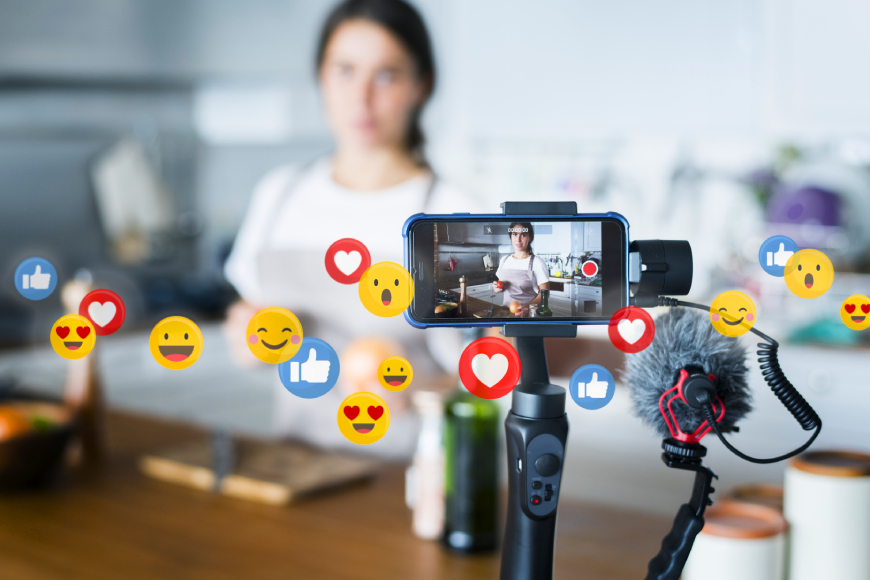 Influencer Marketing Will Expand
The imminent growth of influencer marketing can be seen from both perspectives: Not only is there a continual rise in the number of influencers on social media, but we're also seeing an increase in spend on influencer marketing by businesses. However, instead of collaborating with one or two large-scale creators, brands are beginning to realise the significance and efficacy of working with a wider network of smaller, niche influencers, who are more relevant to their industry and followers, such as:
• Nano influencers: between 1000 and 5000 followers
• Micro influencers: between 5000 and 20,000 followers
Nano influencers with fewer than 5000 followers actually have the highest engagement rates (5%), demonstrating how close-knit communities often yield better results than larger followings who are less likely to interact, such as those surrounding traditional celebrities, who used to be the go-to for product endorsements.
UGC Will Boost Social Proof and Relatability
UGC (User Generated Content) has skyrocketed in popularity as a result of the pandemic, where social media users have begun to value authenticity and honesty above all else - and as we head into 2022, this trend is forecast to continue. A massive 93% of consumers trust content created by real people more than content created by brands, with a further 84% of millennials reporting that UGC has some influence on what they buy. Sharing photos, videos and testimonials from your fans shows prospective customers what they can expect from your business in a real-life setting, while simultaneously making your current community members feel more involved with your brand.
There's definitely a time and place for professional photoshoots and high-end content, but audiences in 2022 will prefer to see a "no-frills" approach to social media from businesses, which is much more down-to-earth and places the customer at the heart of all they do.
AR and VR
Next year, social media will see a rise in the adoption of technologies like augmented reality (AR) and virtual reality (VR). Augmented reality filters are already being used on several major platforms like Snapchat (over 200 million Snapchatters engage with AR every day!) and Instagram, and with Meta's exciting new range of tech products currently in development, we can only imagine the possibilities that might arrive in 2022. Horizon Virtual Workrooms and Smart Glasses are two of our favourites so far!
Brands can also leverage these tools to provide better shopping experiences to their customers. It's becoming more common for businesses to use AR to allow people to "try out" products beforehand - and, according to The Drum, this can boost click-through rates by as much as 33%.
Summary
These are just a few of the areas that we think will dominate the social media landscape in 2022. By taking advantage of them, you can plan a marketing strategy that helps your brand stay ahead of its competitors and delivers exactly what its audience wants. The features that work best will vary depending on your industry and target demographic, so don't forget to monitor the success of each of your campaigns and don't panic if you can't apply every trend to your business! Did we miss anything? Let us know your own predictions for next year by tweeting us @3sixfivepro.