Social Media Trends for Christmas 2021
Thursday 11th November 2021

Social Media Trends for Christmas 2021
Thursday 11th November 2021
Christmas is without a doubt the main event in every marketer's calendar - and with 2020's festive season being scaled back as a result of pandemic restrictions, it's safe to say that both brands and customers are looking forward to the return of a more normal celebration this year. We're analysing the top trends for your business to incorporate into its imminent content plan.
An Earlier-Than-Usual Start
To make up for the limitations of last year, we can expect consumers to start browsing for gifts, planning activities and generally getting into the festive spirit earlier than usual (just take a look through the #NeverTooSoon tag on Instagram to see plenty of eager home decorators putting up their trees and lights already!). So, if your business hasn't begun its Christmas marketing campaign yet, don't delay too much longer - the big day itself may not be until the end of December, but your followers and fans will be anticipating relevant content and seasonal promotions from you throughout November. In fact, Mintel reports that in 2020, 25% of people had started their Christmas shopping in September or even earlier - and paired with this year's concerns regarding shortages of fuel, produce and staff here in the UK, it's highly likely that a similar pattern is underway.
Festive Video Content
2021 has truly been the year of video content, especially short-form vertical videos thanks to TikTok and Instagram Reels. This trend is set to continue over the Christmas period, so whether you're an eCommerce store looking for an effective way to showcase your festive product range or a restaurant hoping to entice guests with a delicious seasonal menu, creating and uploading a high-quality video is sure to grab your audience's attention and boost engagement. The stats speak for themselves: 84% of people say they've been convinced to buy a product or service by watching a brand's video, and users are twice as likely to share videos with their friends than any other type of content.
Check out the simple example below from Pret - the video is only a few seconds long, but still manages to generate excitement and intrigue their followers by showing some quick sneak peeks of their upcoming festive drinks and snacks. Videos under 90 seconds tend to have better retention rates than longer ones which often cause viewers to lose interest if the key message isn't conveyed within the opening few slides.
Christmas-themed tutorials are another great use for video content, like the example below from Next, which shows viewers a step-by-step guide to crafting their own advent calendar. 53% of people report watching two or more instructional videos per week, and when it comes to YouTube, How-to videos earn the most attention of any category on the platform - even more than music clips or gaming!
Christmas-Themed UGC
UGC (User Generated Content) is definitely a trend we've witnessed a lot throughout 2021, with customers wanting to get involved with their favourite brands and see real-life snapshots of their products and services in use. In the example below from The Range, they've chosen to repurpose a cute dog photo shared by a follower in order to display some items from their festive pet collection in an authentic, community-led way. Your brand can collect and curate its own UGC by regularly reminding fans to tag you in their posts and offering incentives such as prizes for the best photos on a specific theme.
Shopping on Social
Social shopping has skyrocketed this year, with tools such as Instagram's Shop feature (learn how to set one up here) providing a more efficient, seamless way for users to purchase products directly on their favourite social media platforms via shoppable posts and streams. Live Shopping could be an excellent avenue for brands and creators to explore this festive season - how about a live gift guide experience, complete with product demonstrations to show how each item works and who it might be suitable for?
By the end of Q4, the global social commerce market is predicted to have increased by 34%, with the Christmas period of course being the final push towards this figure. Furthermore, Salesforce estimates that online traffic to eCommerce sites from social referrals will grow by 30% this December, and we think the recent arrival of Link Stickers on Instagram Stories will definitely support this, as the link function is no longer limited to users with over 10,000 followers.
TikTok's shopping capabilities are growing too, with its users being 1.7x more likely to purchase products discovered through the app than its competitors, making it the perfect platform for boosting sales this Christmas - particularly if your target demographic is Gen Z. After all, #TikTokMadeMeBuyIt!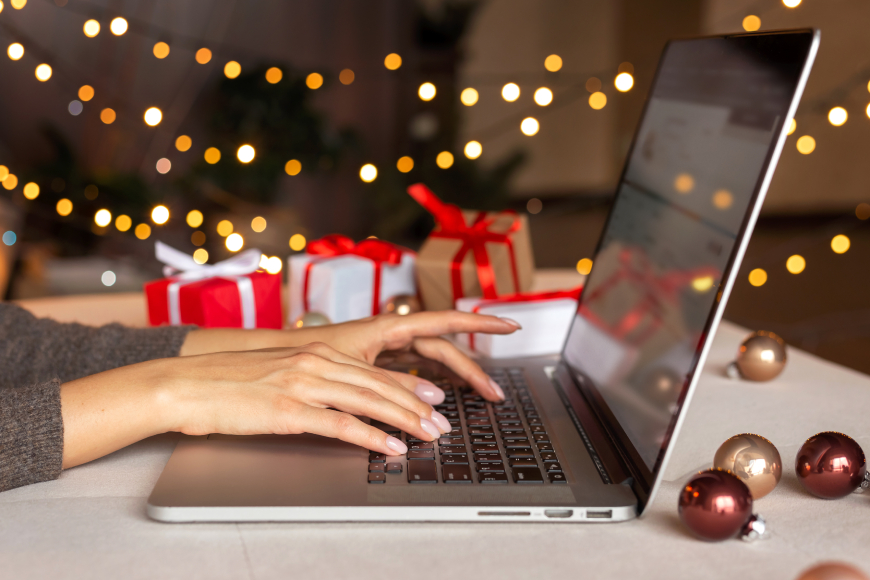 Heightened Responsiveness & Customer Care
According to Sprout Social, retailers can expect to receive 18% more messages on social media during the Christmas holidays this year, meaning it's crucial for your brand to be prepared with a strong Community Management strategy - with a specific focus on social customer service.
Sprout breaks down this projected percentage increase firstly by business size:
• Small businesses: 15% more messages
• Medium businesses: 12% more messages
• Large enterprises: 23% more messages
And also by platform:
• Instagram: 44% more messages
• Twitter: 14% more messages
• Facebook: 4% more messages
Due to this influx, now is a good time to assess your team's workload and begin allocating sufficient resources in order to make sure every customer gets a timely, attentive response to their queries over the festive period. Implementing a Live Chat widget on your website could be a suitable solution for your brand, due to its fast and straightforward nature.
Influencer Partnerships
Influencers have played a huge role in brands' marketing strategies throughout 2021, with a massive 75% of companies setting aside a dedicated influencer budget - and it certainly pays off, with 38% of customers admitting that they rely on influencer reviews when shopping online.
Over the course of the pandemic, it has become apparent that although your fans may still enjoy seeing high-budget, extravagant marketing campaigns from time to time, they also respond extremely well to content produced by the creators they follow on social media. While it may be true that a handful of influencers portray unattainable lifestyles and share heavily edited photos, there are also plenty who distribute content which is genuinely relatable and down-to-earth, and these are the ones brands should look to partner with this Christmas.
Stories are an ideal platform for realistic, impromptu content, so an Instagram Takeover where an influencer handles your brand's Story for a day or week could be a brilliant way to humanise your brand throughout December.
Actress Emilia Clarke is Clinique's Global Brand Ambassador, so in the Instagram example below, she showcases her festive beauty favourites - plus, the post doubles up as a Christmas competition in order to increase engagement and encourage viewers to purchase the products displayed in the video.
Sustainability and Social Issues
Two thirds of consumers say it's important for brands to take public stands on social and political issues, and more than half are open to this happening on social media. The ongoing climate crisis can't be ignored, and with Christmas being somewhat notorious for its focus on overconsumption, many shoppers will undoubtedly be searching for more environmentally-friendly ways to approach the festive season this year - especially Gen Z, 90% of whom say they are making intentional efforts to be more sustainable in their daily lives. The example below from H&M celebrates the process of sharing, recycling and caring for clothes, and shows how brands can be eco-conscious whilst still having fun and getting into the Christmas spirit.
Everyone celebrates differently, but the importance of sharing is universal. This season, let's find joy in sharing style and inspiration with each other. #HM

Find out more on our sustainability page now: https://t.co/fzdvfESoKS pic.twitter.com/6ocHPlgQ7D

— H&M United Kingdom (@hmunitedkingdom) November 11, 2021
Alternatively, letting your followers know that your brand will be donating money to charity is another great way to be socially responsible this Christmas, as seen below in Homesense's Instagram post which tells shoppers that a portion of every purchase from their festive range will support the Prince's Trust.
Summary
Whatever you decide to share online this Christmas, remember to always keep your customers in mind and cultivate positivity following the challenges we've all faced over the last 18 months. Whether you choose a classic advent countdown, a giveaway, a photo competition or an influencer collaboration, there will be plenty of opportunities for engagement, interaction and community building throughout the festive season - and don't forget the 'social' in social media!