How Hashtags Can Optimise Social Media Content
Thursday 18th February 2021

How Hashtags Can Optimise Social Media Content
Thursday 18th February 2021
Originating on Twitter in 2007 as a way of grouping and filtering content, hashtags have become an overwhelmingly popular feature across all major social media platforms today. Used correctly, these keyword phrases can help categorise your brand's posts, build awareness around specific campaigns and introduce new audiences to your business through shared interests. They offer the chance for you to connect with new and existing fans surrounding common themes, events and topics - and, if you're lucky, even go viral. However, when incorporated wrongly or excessively, they can produce irrelevant results or make your content resemble spam. That's why it's important to learn the most effective ways to utilise them on each site. We're taking a look at the best practices on Twitter, Instagram, Facebook and LinkedIn to discover how hashtags can optimise your posts and which ones are most suitable for your business.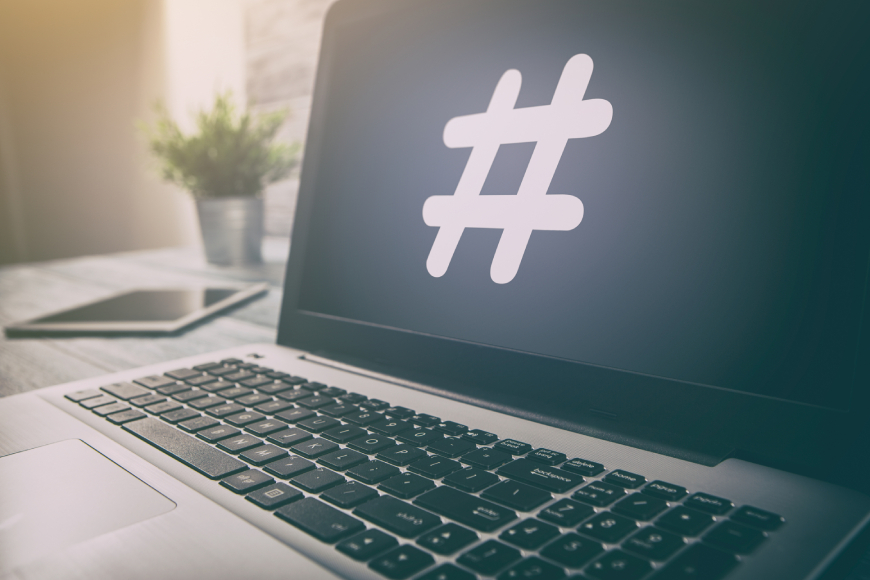 Hashtags on Twitter
Starting with the platform on which hashtags were founded, Twitter is an excellent space to get to grips with the feature. Although there's no limit to how many hashtags you can use in a Tweet, Twitter recommends two - and don't forget, they won't work properly if they contain punctuation or symbols, so make sure to use phrases that don't require these. You can either integrate your hashtags into the main body of your Tweet or type them separately at the end, depending on whether they fit into the sentence you'd like to share or not.
Twitter hashtags tie in well with the process of Social Listening, as you can search for subjects relevant to your brand or industry and monitor or join in with any conversations taking place which present opportunities for engagement.
A common purpose of hashtags on Twitter is to promote upcoming events, as seen in the example below. Anyone who clicks or taps the hashtag will be shown all of the tweets that have been posted relating to Social Media Week NYC.
Pass sales for #SMWNYC 2021 open in 2 days!

Check out the global theme for the year and register your interest to be reminded when pass sales open! https://t.co/rzr7g8FVWb pic.twitter.com/aZIxhGk7Kr

— Social Media Week (@socialmediaweek) February 9, 2021
Hashtags on Instagram
When it comes to Instagram, you can choose to add your hashtags either in the caption or comments of your post, making it visible on the corresponding hashtag page. Like on Twitter, spaces and special characters will prevent hashtags from working, so these should be left out.
Using a mix of both popular and niche hashtags can help your content get seen by a combination of wide, generalised audiences as well as smaller, more dedicated fan groups. When you start typing a tag, Instagram will tell you how many posts have been published in that category.
You can use up to 30 tags on a post, and we recommend using the full amount to maximise your reach. Your caption can appear overcrowded if you type all of them here though - that's why it's a good idea to put them in a comment below instead, as Instagram will hide this in the feed. What's more, with scheduling software such as Sprout Social, you can set up the first comment to include your hashtags so you don't have to manually add them once your content has been posted. The example below from Freepik demonstrates the use of one key hashtag in the post's caption followed by a range of more generic ones in the first comment.
Hashtags on Facebook
Due to the more private nature of Facebook, where the majority of users' accounts and posts can't be viewed by the public, hashtags function differently on this platform in comparison with Twitter and Instagram. Hashtags posted by individuals aren't searchable, so they're usually only shared by brands, businesses and influencers with openly accessible pages. This means campaign-specific hashtags are the most popular type on Facebook - as seen below in Adobe's post detailing their Creative Residency opening.
While it can be tempting to simply copy and paste your Instagram content over to Facebook, we would advise you to write separate posts tailored to each platform in order to avoid elements like hashtags becoming ineffective.
Hashtags on LinkedIn
On LinkedIn, hashtags enable your business to network with others from the same industry and build professional relationships. When composing a post, recommended hashtags are automatically suggested as you begin typing yours, which is a great tool for discovering topics stemming from a keyword. You can also follow relevant hashtags and pin your favourites to your homepage, making it even easier to find and filter the information you're looking for, which is particularly helpful for Social Listening. The tags you add to your posts should reflect the platform's mature, sensible tone of voice - with #Productivity, #Careers and #SocialEntrepreneurship being among the most prevalent choices.
National and global awareness days are also good opportunities to add hashtags on LinkedIn. Using a social media calendar, identify any upcoming days or celebrations that relate to your work and incorporate the associated hashtags into your content plan, as seen in the example below from Hootsuite.
Summary
If you aren't already using hashtags in your social media posts, it's not too late to start. Implemented carefully, they can help grow your brand's fanbase, promote your content and generate a buzz around your campaigns - as long as you pay attention to each platform and keep on top of the latest trends. Want to learn more about this valuable tool? Check out our podcast episode where we discussed hashtags in further detail.