How to Use TikTok Successfully for eCommerce Brands
Thursday 10th February 2022
How to Use TikTok Successfully for eCommerce Brands
Thursday 10th February 2022
Over the last few years, TikTok has rapidly become a driving force within the social media world. It reached the 3 billion download milestone in mid 2021, becoming the first non-Facebook app to do so - and today, an immense 167 million videos are watched on the app per minute. It also has the highest engagement level of any social platform, with micro-influencers in particular seeing average engagement rates of 17.96%, compared with a much lower 3.86% on Instagram and just 1.63% on YouTube.
Entertainment (such as comedy skits, dances and memes) remains the most popular category on TikTok, but that doesn't mean there isn't space for brands and businesses to market and sell their products and services too. In fact, the platform has set a target of $12 billion in revenue from ads and direct sales for 2022 and it currently ranks 3rd on the list of factors that influence Gen Z product purchases, falling just behind recommendations from friends and family members.
If you're the owner of an eCommerce business and are looking to start selling on TikTok this year, keep reading to learn more about the ever-growing selection of tools and options it offers.
TikTok Shopping Overview
As the name suggests, TikTok Shopping is TikTok's in-app shopping platform. Powered by Shopify, it first launched in August 2021 and allows creators to add a dedicated Shopping tab to their profiles and sync their product catalogues to the app to create mini storefronts. These products can then be tagged in videos and accessed via a tappable link (similar to Instagram's shopping sticker for Stories) which will take them to the merchant's online store for checkout.
Kylie Jenner was one of the first business owners to take advantage of TikTok Shopping, explaining: "I built my business on social media; it's where my fans go first to look for what's new from Kylie Cosmetics. I have so much fun creating TikTok videos, and I love sharing posts of my fans using the products. That's why I'm excited for Kylie Cosmetics to be one of the first to let customers shop directly on our TikTok!"
not us bringing Shopping to TikTok

we're partnering with our bestie @tiktok_us to bring their Shopping to life. now you can connect your Shopify store and sell directly on TikTok or tag products in your organic posts *cha-ching*

find out more below 👇 https://t.co/pYKlrSteIq

— Shopify (@Shopify) August 24, 2021
Before the arrival of the official TikTok Shopping platform, eCommerce transactions on TikTok happened "organically" rather than through a proper tool. Creators would talk about products they were enjoying in their videos and would tell viewers to visit relevant sites and local stores, in order to track down those items and make purchases. TikTok Shopping has helped make the process much more streamlined for both customers and brands, and has provided an all-encompassing space for businesses to monitor direct conversions.
Live Shopping on TikTok
Not only can TikTok users purchase products through regular videos, they can now shop during live broadcasts too! Livestream shopping is already a huge part of social commerce culture in countries like China, where it's predicted that more than 320 million people will make at least one purchase from a livestream by the end of next year - and in December 2021, TikTok decided to bring this trend to the UK and US. It ran a series of exciting live events where retailers showcased buyable items and offered exclusive discounts to viewers.
You heard right, we're going shopping! On Trend is a LIVE event you don't want to miss with some of our faves @missgemcollins Sam Ryder @WesNelsonMusic and a few more surprises. See you on December 8th and 9th 😉 pic.twitter.com/6DNBvVUUyD

— TikTok UK (@tiktok_uk) December 3, 2021
The advent of live shopping presents eCommerce brands with plenty of new ways to connect with fans in real time, and share dynamic links to products and services while demonstrating how to use them and outlining their benefits.
Ready for a last minute shopping spree? 🎁 Follow @Walmart on TikTok and tune-in tomorrow for their first ever shoppable live stream! https://t.co/rme7a6nixl pic.twitter.com/ooUuqg2PEW

— TikTok (@tiktok_us) December 18, 2020
How to Set Up TikTok Shopping
Step 1
Before you can get started, you need to be a Shopify merchant so that you can download Shopify's TikTok app and subsequently install the TikTok channel on your Shopify store. You also need to have a TikTok Business account rather than a personal one.
Step 2
After connecting your account, a TikTok Business Dashboard will appear. This is where you can control all of your business tools in one place, including your ads (more about these below).
Step 3
Choose which products you want to sync with your TikTok profile. Product titles should fit within the character limit (34 characters) and include basic information about the product. The description can be longer and should include as many details as possible. Remember that the shopping tab on your profile will act as your storefront, so make sure it looks good, fits your brand style and is optimised to attract customers, with clear, high quality images.
Step 4
Start promoting your products in your videos, ads and live streams!
Read more great TikTok marketing tips from Shopify here.
TikTok Ads
Direct selling isn't the only way for eCommerce brands to benefit from TikTok. The app's dedicated Ads Manager offers a wide range of advertising opportunities, including the following available ad formats:
In-Feed Ads
These are TikTok's standard ad format. They integrate seamlessly into the For You Page so users will see them pop up as they scroll through regular videos.
Collection Ads
These allow brands to include product cards in their In-Feed Ads. When a user taps on an item featured in a card, they will be shown a gallery page where they can browse through more related items from the same category.
TopView
This format appears right at the top of the For You Page and offers up to 60 seconds of full-screen and long-form video, with autoplay and sound. 72% of users say TopView ads grab their attention the most.
Branded Hashtags
Described by TikTok as "A one-of-a-kind engagement format that taps into user passion for creation and expression", a paid, branded hashtag will encourage users to post their own videos showing how they use your product or service and explaining what they love about it.
Branded Effects
Much like branded Instagram filters and branded Snapchat Lenses, branded effects on TikTok enable businesses to share stickers and effects that users can use in their own video content. If you're the owner of a beauty brand, for example, you could develop and launch an AR filter that gives prospective customers an idea of how they'll look after applying one of your products.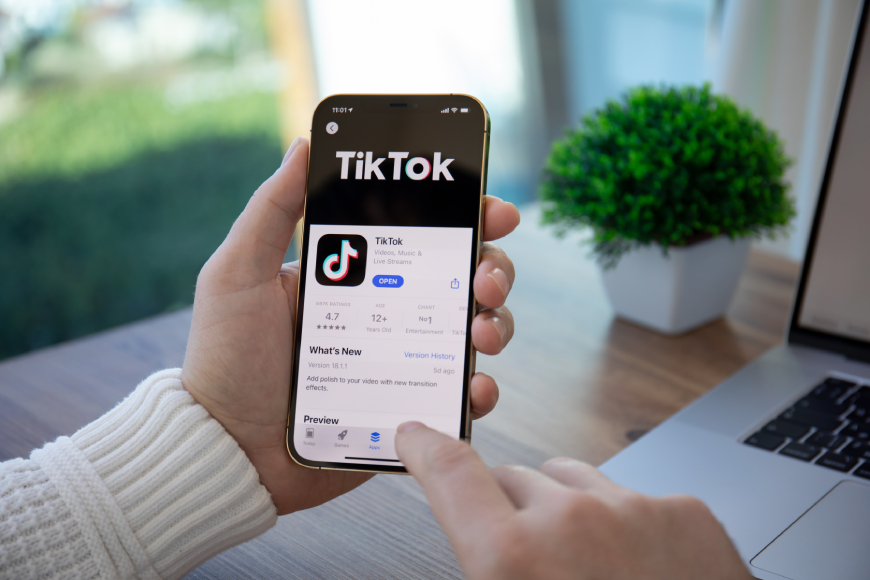 It's also a good idea to install the TikTok Pixel, a piece of code that you can place on your website which lets you track visitors' behaviours after finding your brand on TikTok. This means you can easily assess the effectiveness of your TikTok marketing efforts by monitoring which of your sales occur as a direct result of your ads.
Summary
As you can see, TikTok isn't going anywhere. Its shopping capabilities are changing the eCommerce world and reframing the way consumers browse, discover and purchase products, as well as opening up countless new possibilities for brands. In fact, the amount of transactions carried out on the app has increased by a monumental 553% over the last 12 months as a result of the pandemic, and the famous #TikTokMadeMeBuyIt hashtag is currently sitting at an impressive 8.6 billion views. Plus, with Stories recently being tested on the platform, even more commerce options could be just around the corner. If your business is looking to shake up its marketing strategy and boost sales in 2022, TikTok could be the key to success!
Keep an eye out for our next blog post where we'll be sharing more eCommerce tips and tutorials for all of your other favourite social media sites.