Meta's New App Threads: What Do We Know So Far?
Thursday 13th July

by Beth Perrin

Meta's New App Threads: What Do We Know So Far?
Thursday 13th July 2023
Meta's newest app, Threads, launched just a few days ago on 5th July and has immediately skyrocketed in popularity, already surpassing an impressive 100 million sign-ups and subsequently overtaking the previous record set by ChatGPT. Built by the same team that developed Instagram, Threads is being described as a Twitter rival, due to its focus on short text-based updates and public conversations. It's currently available on both iOS and Android in over 100 countries, and lots of additional features are still in development which will be added to the app at a later date. We're taking a look at what we know so far and what the future might hold for this rapidly rising platform.
Why Do People Want a Twitter Alternative?
Firstly, just in case you haven't been keeping up with the latest news from the social media world, here's a quick recap of what's been going on at Twitter that has caused people to seek out an alternative app.
In October 2022, Tesla and SpaceX CEO Elon Musk bought Twitter for $44 billion, stating that he wanted to improve the platform's approach to free speech, amend its content moderation policies, crack down on fake bot accounts and change some of the features offered to users. He also decided to cut costs by reducing and restructuring the company's internal workforce.
Since his acquisition, Musk has made lots of changes to the platform, the most notable being a major revamp of its verification system - aka Twitter Blue and Verified Organisations, wherein users must now pay to have a blue or gold checkmark next to their username and access to a range of subscriber-only features, such as the ability to edit their tweets. Other changes include:
• The update and global rollout of Community Notes, the crowdsourced fact-checking system previously known as Birdwatch
• The closure of Revue, a newsletter platform acquired by Twitter in 2021
• The removal of free API access, leading to the closure of many third-party Twitter tools
• The introduction of super long tweets for Twitter Blue subscribers (up to 25,000 characters!), moving the platform away from its original focus on brevity and short-form content
• People without an account no longer being able to view Twitter profiles
Many users - from casual scrollers and individual creators to big brands, businesses and journalists - have become increasingly dissatisfied with the platform as a result of these changes (among others), which is why Threads came onto the scene at such a pertinent time. However, that's not to say that everyone who has joined Threads is looking for a Twitter replacement - some users simply want to try out a new app and see if it's something they're going to enjoy.
Getting Started with Threads
To access Threads, you must log in with an existing Instagram username and password, so if you don't have an Instagram account, you'll need to sign up for one first. As well as your username, your Instagram profile name and settings (such as your block list) will also be imported. Anyone who is under 16 (or 18 in some countries) will have a private profile by default when they join Threads.
You can then choose to follow the same accounts you do on Instagram, new ones, or both. Once you've followed some accounts, you'll see their Threads (posts) in your feed, with options below them to like, repost, reply or share. There are also counters below each post showing how many likes and replies they have received. Posts are limited to 500 characters, which is more than Twitter's 280-character threshold for regular users, and can include links, photos and videos up to 5 minutes long.
You can also easily share Threads posts onto your Instagram story, or as a link on any other platform you choose.
Positivity Focus
On the app's release day, Meta explained: "We built Threads with tools to enable positive, productive conversations", hinting at the aim of providing a happier and more relaxed environment than other social platforms.
Then, responding to a question about whether Threads will embrace the news industry, (naturally a divisive topic on social media!), Instagram chief Adam Mosseri said: "The goal is to create a public square for communities on Instagram that are interested in a less angry place for conversations. Politics and hard news are inevitably going to show up on Threads but we're not going to do anything to encourage those verticals." He also added: "Politics and hard news are important, I don't want to imply otherwise. [But] there are more than enough amazing communities – sports, music, fashion, beauty, entertainment, etc – to make a vibrant platform without needing to get into politics or hard news."
Jim Waterson, Media Editor for the Guardian also noted that: "The biggest difference [between Threads and Twitter] is that Threads feels substantially less confrontational, less aggressive, and less based around shouting at strangers with different political views than Twitter. The racism, antisemitism, transphobia and general abuse that is prevalent on Twitter is just nowhere near as visible."
Threads is still very new so of course at this stage it's too early to say whether its current focus on lighthearted content will stick around for the long term. However, the optimistic reaction from users so far does seem promising, and could suggest that Threads is going to be a place for different kinds of discussions than those on Twitter - which are notorious for being negative, inflammatory and sometimes even harmful.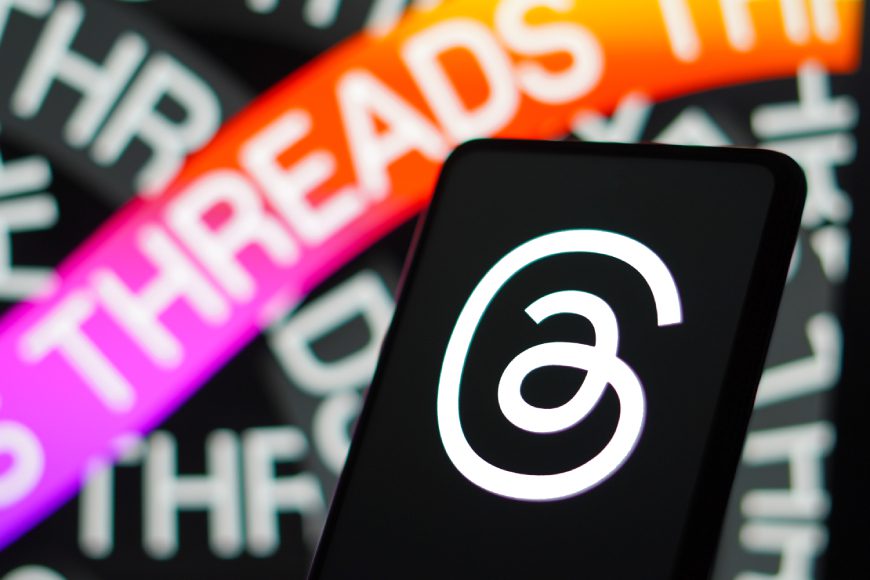 How is Threads Different from Twitter?
Other than the content focus mentioned above, there are a number of differences between Threads and Twitter. Firstly, there isn't a full desktop version of Threads at the moment - you can view posts and profiles on the web through a link, but you can't log in, create posts or interact with anything. This has to be done through the mobile app.
Secondly, Threads doesn't yet have a 'Following' timeline where you can view all of the posts from people you follow in chronological order, like you can on Twitter. Instead, it only has an algorithmic feed, meaning you'll see a mix of posts from people you follow and recommended content from those you don't. However, Mosseri has confirmed that a Following feed will be coming to the app soon.
The next big difference between the two platforms is that Threads doesn't have a DM (Direct Messaging) function - you can only reply publicly to users' posts. Additionally, you can't view your own liked posts, so once you've liked something, you'll need to navigate to that user's profile if you want to revisit it.
Profiles on Threads also don't have a header image like they do on Twitter. Instead, your profile picture is displayed in the top right corner of the page on a simple white background with your name and username on the left.
Unlike Twitter, there aren't any hashtags on Threads either, and it doesn't currently have a search bar for finding specific words or phrases. It does however allow users to share more images in a single post than you can on Twitter - up to 10 images can be included, whereas on Twitter the maximum is 4.
For now, you don't need to pay to access any additional features on Threads, plus there aren't any paid ads. However, if you've already paid for verification on Instagram through Meta Verified, your blue checkmark will be carried over to Threads when you sign up.
Privacy Concerns
One of the main concerns so far about Threads is privacy issues. According to its data privacy disclosure on the App Store, the platform is able to collect a wide range of personal information from users, including health, financial, contacts, browser history, location data, purchases and other 'sensitive info', which industry watchdogs have warned could be problematic for users.
Because of these issues, Threads is not yet available in the EU, which has stricter data privacy rules than other parts of the world. Meta hopes to roll out the app in more countries in the future, but has confirmed that regulatory uncertainty is the reason why it has held off on a European launch for the time being.
Some users have also voiced concerns about deleting their Threads account, as the platform states that doing so will also delete the user's Instagram account. However, Mosseri clarified that users can instead deactivate their Threads account, which will hide their profile and content but won't fully delete it, meaning their Instagram profile will stay intact. Alternatively, you can set your profile to private or simply delete individual posts. However, he also added that the Threads team is looking into a way to delete your Threads account separately.
Summary
It's early days so there's still plenty more to learn about Threads, what it offers and what it might become in the future - but from what we've seen so far, we think it has real potential to become a fan favourite, not just for everyday users but for brands and marketers too. Have you given it a try yet? If so, what are your thoughts at this stage? Is it likely to replace Twitter, or will people stick with the platform they know best? As the app evolves and new features are released, we'll be sharing more about it here on the blog and on our socials, so make sure you're following us on all of our channels to stay updated.