How to Sell Directly via Social Media
Thursday 17th February 2022
How to Sell Directly via Social Media
Thursday 17th February 2022
Social commerce, which refers to the process of selling products directly on social media, is on the rise, bringing forward a whole new world of opportunities for eCommerce businesses to explore. 54% of Gen Z shoppers and 58% of Millennials agree that social platforms are better than online searches for finding out about new items, and advertisers anticipate spending $56 billion to promote their products on social media in 2022, demonstrating how both consumers and businesses are beginning to embrace the shift towards socially-focused shopping experiences. Social commerce isn't just for big brands either - it's estimated that by 2023, 71% of small businesses will also sell on social media platforms, either through the use of ads or built-in storefronts (or both!).
So, whether you're already using social shopping tools and want to diversify your strategy or you're a complete beginner wondering how to get started, here's our ultimate guide to selling on a variety of different social media sites.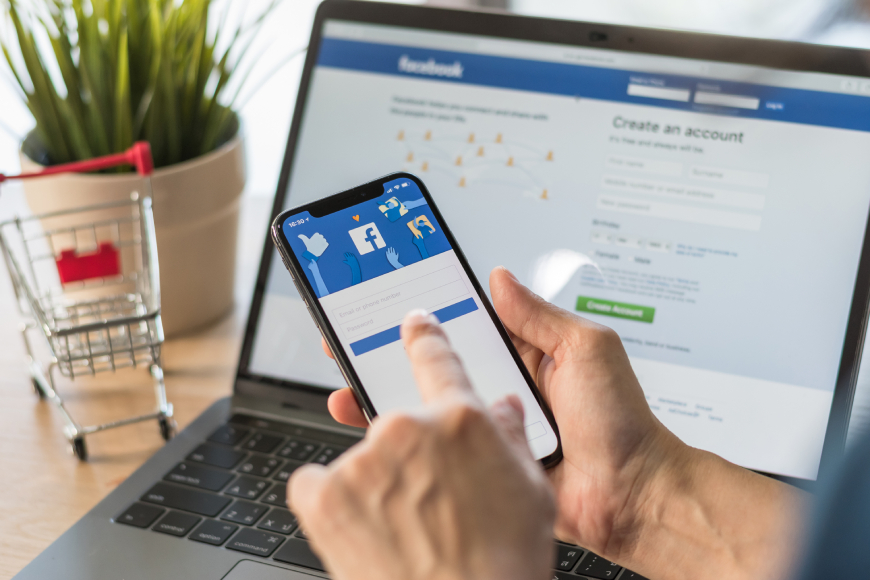 How to Sell Directly on Facebook
With 56.1 million buyers, Facebook ranks as the top social commerce platform in the US. eCommerce businesses can sell their products and services on Facebook in two main ways: through ads and Shops. Let's start with ads, where the following formats are available:
• Image: Use a static image to promote your product(s) or brand.
• Video: Film a video or use an animation about your product(s) to make your ads more eye-catching in the News Feed.
• Carousel: Showcase up to ten images or videos in a single ad, each with its own product link.
• Instant Experience: This is a full-screen experience that opens after someone taps your ad on a mobile device. Within an Instant Experience, people can watch videos, swipe through photos in a carousel, view products in your catalogue, explore images with tagged products and tap buttons to go to other web pages.
• Collection: Curate a category of products from your store for users to browse. When someone taps on the ad, a full-screen Instant Experience will open.
• Messenger: People will see these ads in the chats tab in their Messenger app, sitting amongst conversations in their inbox.
• Playable: If you're an app developer looking to boost installs of your mobile game, you can give people an interactive preview with a playable ad.
eCommerce Objectives
Facebook ad objectives are segmented into three categories: Awareness, Consideration and Conversion. Seeing as we're discussing selling on social media today, we'll just focus on the Conversion objective. Facebook breaks this one down even further into the following three goals:
• Conversions: Increase actions on your website or app. This objective simply prompts people to make a purchase.
• Store traffic: Bridge the gap between people's online and offline shopping journeys by driving store visits, sales and other valuable actions at your physical store locations.
• Catalogue Sales: Sell more items by automatically promoting your most relevant products. Simply upload your catalogue and set up your campaign, then Facebook's algorithm will show the right products to the right customers.
How to Set Up a Facebook Shop
Firstly, make sure you already have a Facebook Page for your business, as well as a catalogue that you want to use for your shop. You'll need to have 'Manage Page' permissions for the page. If you manage your page and catalogue in a Business Manager account, you'll need to be an admin on the account.
Head to the Commerce Manager and choose 'Create your shop', before choosing one of the three checkout methods: checkout on Facebook, checkout on your website, or checkout with messaging. Then, select the page that you want to sell from, and select your Business Manager account. Click Next, before choosing the catalogue that you want to use for your shop.
If you don't already have a catalogue, Facebook can generate one for you automatically in the Commerce Manager, which it will call 'Items for (name and ID of your Page)'. You can then add your items later when you've finished setting up the rest of your shop. Finally, review your shop details, agree to the Seller Agreement and click Finish Setup. Now you're able to create collections, which are groups of categorised products that you want to feature alongside each other, as well as customise the look and feel of your shop.
Integrate with WhatsApp
Seeing as WhatsApp is part of the Meta family of apps, after setting up a Facebook shop, you can link it with your WhatsApp Business account to boost sales even further. Under 'Ads and sales channels', simply click on WhatsApp, add your WhatsApp account, then click Confirm. Add your WhatsApp phone number to your shop and set WhatsApp as the primary contact method. After choosing 'Use WhatsApp as a sales channel', a shopping button will then appear on users' chat screens, making it easy for them to explore your products and services whilst in between conversations.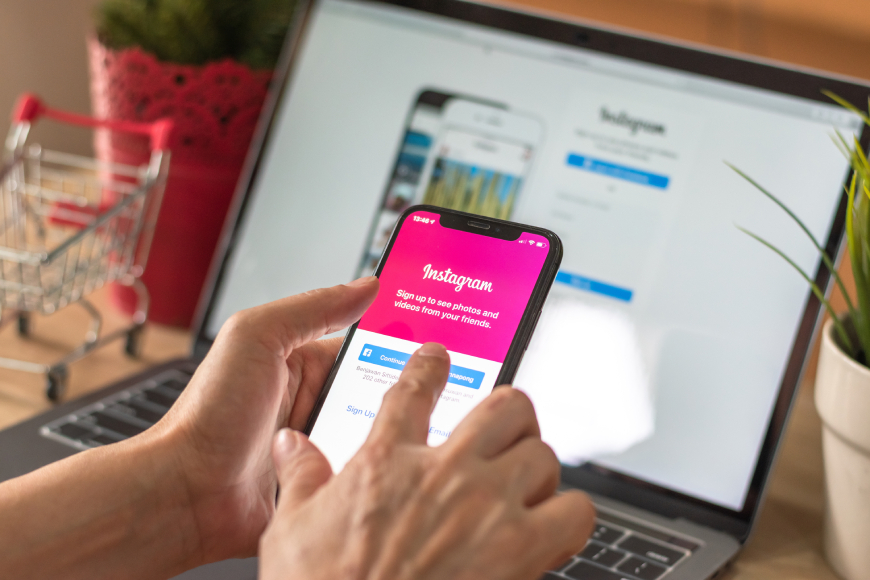 How to Sell Directly on Instagram
Just like on Facebook, eCommerce brands looking to make sales on Instagram can use either ads or Shops. We explained how to set up an Instagram Shop here in our detailed guide, so in this blog post we're just going to focus on ads. The following placements are available:
• Image: Use a static image to promote your product(s) or brand, in a square, landscape or vertical format.
• Videos: Film a video or use an animation about your product(s) in a square or landscape format (except for in Instagram Stories where your video must be vertical).
• Carousel: This lets you showcase multiple items in a single ad, each with their own product links to your website.
• Stories: These vertical videos appear in between users' friends Stories and play automatically, meaning they're a great way to seamlessly integrate your products and brand with regular content on the platform.
• In-stream video: This format can support all video creative up to 15 seconds long.
• Reels: Like with Stories ads, these appear amongst regular users' Reels, making them feel authentic and personal.
• Instagram Shop: This must be in the single image, carousel or collection format. Although all ratios are accepted, Shop ads will appear as square 1:1 images and will be tappable to your website's product details page.
How to Sell Directly on TikTok
Shopping on TikTok has skyrocketed in popularity during the pandemic, with the app's excellent eCommerce facilities seeing an enormous 553% increase in usage over the last 12 months. The #TikTokMadeMeBuyIt hashtag has been visited nearly 9 billion times already, and 61% of users feel that the advertising they see on the platform is unique from other social sites, describing it as "more authentic, fun, genuine, honest, real and trustworthy" than the rest. Check out our previous blog post for more info and a step-by-step guide to selling on TikTok.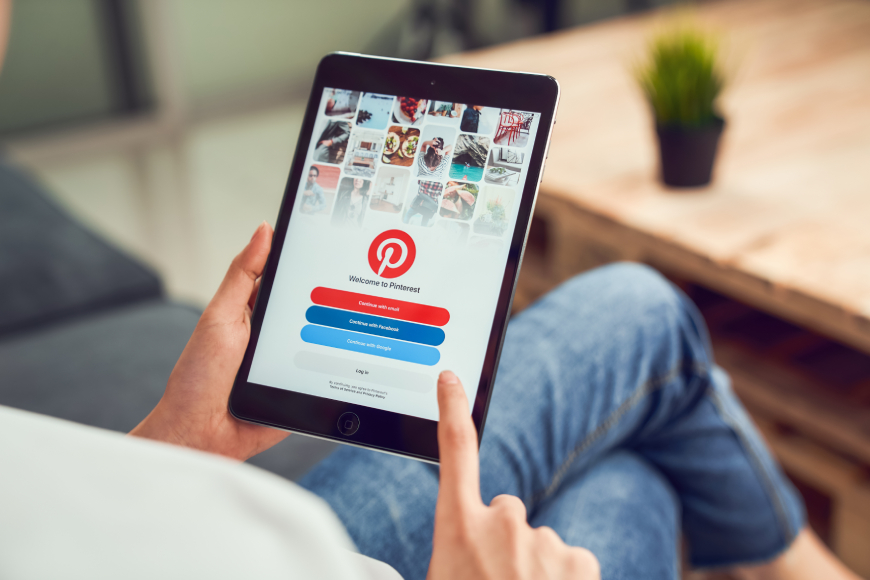 How to Sell Directly on Pinterest
Pinterest shoppers have 85% more in their basket than customers on other platforms and they also spend twice as much money per month. Plus, around 40% of users say they log onto the site with the specific aim of researching brands and products.
Firstly, you need to make sure you have a Pinterest business account - either sign up for a new account or convert your personal one. Next, claim your website so that Pinterest can verify its domain and check that it has a clear and easy-to-find shipping policy, refund policy and contact details. From here, you can either upload a catalogue using a data source or a file that contains a list of your products and their corresponding attributes, or link your Pinterest shop with one of the following eCommerce platforms:
• Shopify
• Lengow
Now your items will be featured on your Shop tab, and you can start creating shopping ads and tagging products in your Pins. You can also apply to join the platform's Verified Merchant Programme, which pushes your Pins organically to people who are searching for relevant items and shopping with similar brands.
Install the Pinterest Tag (Pinterest's version of the Meta Pixel), a small piece of JavaScript that will allow you to track conversion events on your website, segment your audience and report reliably on your profile's performance. You can also install a handy Save button via Pinterest's widget builder, which allows people who browse your website to save items they like to their Pinterest boards, allowing even more people to discover your products.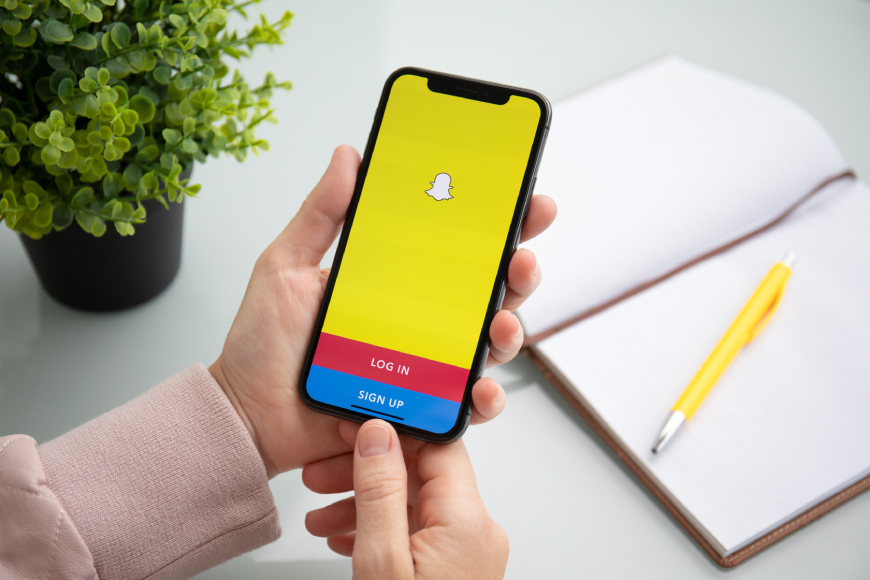 How to Sell Directly on Snapchat
At its Partner Summit last year, Snapchat announced that its in-app stores, which were previously only available to a limited pool of brands, were now open to any company. Since then, businesses have been able to set up shoppable product catalogues and access the platform's most exciting and unique shopping feature - AR filters, which allow customers to virtually try before they buy.
As always, start by making sure you have a Business account. Log in to the Ads Manager, click the menu in the top corner and select Catalogues. Then, choose the eCommerce option and select the type of catalogue you would like to upload, based on your business type. Once you click into your catalogue type, you can either manually upload items via a CSV file, or use the product feed option, which Snap will automatically refresh on a regular basis to match your online store. Alternatively, integrate your Snapchat account with your Shopify store to import items in the same way as on other platforms.
To create a catalogue-powered AR lens, you'll need to contact one of Snapchat's approved partners via the Creator Marketplace to develop it for you, or download the latest version of the Lens Studio to build it yourself.
One to Watch: Shopping on Twitter
Shopping on Twitter is still in its early stages, with a pilot of a new feature called the Shop Module being launched in July 2021. This is a dedicated space at the top of a profile where businesses can showcase their products, and when users visit a profile with this option enabled, they can scroll through a carousel of products and tap through to individual items in order to learn more and purchase seamlessly in an in-app browser, without having to leave Twitter.
Then, during Cyber Week in November 2021, Twitter announced a test of its own Live Shopping facility. The platform's first ever Live Shopping stream was a collaboration with Walmart, and it introduced viewers to a shoppable banner and Shop tab on the live event's page. Users were able to toggle back and forth between the Latest tab and the Shop tab throughout the livestream, which allowed them to be a part of the conversation while simultaneously checking out products, meaning they didn't have to miss a thing while making a purchase.
👋 Today we announced our latest Twitter Shopping experiment: Live Shopping!

Whether you're a home shopping super fan or catching up on your favorite creator's latest purchases, live video has been transforming the way we shop for years.🧵

— Twitter Business (@TwitterBusiness) November 22, 2021
What do you think the future holds for Twitter shopping? Will your brand take advantage of its upcoming eCommerce tools?
Summary
Social commerce is here to stay, especially in the wake of the COVID-19 pandemic, which has undoubtedly changed shopping habits across the globe and caused users to seek new ways of finding and purchasing products. Plus, with in-app checkouts streamlining the buying process and making it even easier for consumers to complete transactions, it's no surprise that people are turning to social media for fast and straightforward shopping experiences.
49% of brands plan to invest more in social commerce this year - is yours one of them? No matter which platform you choose, we hope our guide has helped you figure out where to begin. We're certain that more fantastic options and features will arrive over the coming months, so keep an eye out for any new updates that can be applied to your eCommerce business strategy.