Why Scheduling Content Helps Your Social Media Strategy
Thursday 11th March 2021

Why Scheduling Content Helps Your Social Media Strategy
Thursday 11th March 2021
The content your business shares on social media plays a fundamental role in shaping its digital image. Your posts have the power to encourage engagement, introduce new fans, boost sales and build your reputation - both online and offline. That's why it's so important to develop a consistent strategy which sets out a clear plan and achievable objectives, with your brand's individual KPIs always in mind. Preparing your content in advance instead of posting on an ad-hoc basis allows your business to save time, stay organised and work towards specific marketing goals, spanning multiple social platforms. According to SocialPilot, a surprising 63% of businesses don't have a documented procedure for their posts, resorting to a more randomised approach - which often results in rushed or off-topic content. Even though strategies vary for every business, depending on characteristics such as industry, audience and product, the common denominator across the board is that scheduling content in advance provides undeniable benefits.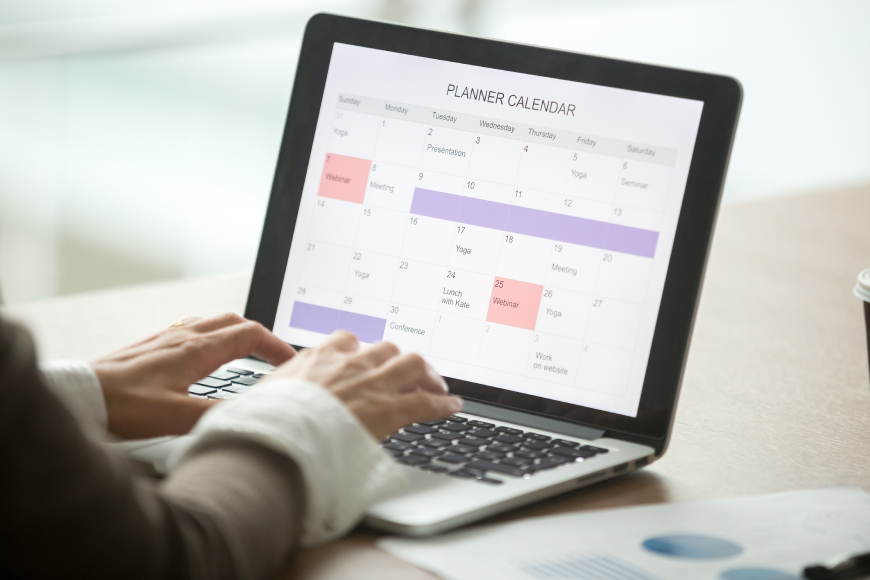 Delivering a Campaign
One of the biggest advantages of scheduling social content ahead of time is the ability to formulate and deliver a calculated campaign. Whether your business wants to tease an upcoming product line, run a series of weekly competitions or promote a particular service over a designated period of time, planning your posts beforehand and setting an agreed publishing frequency is a firm way to ensure consistency, relevancy and reliable analytics.
National Awareness Days
Posting sporadically without any prior planning can mean missing out on opportunities to celebrate national or global awareness days relevant to your brand. Calendars such as awarenessdays.com and publicholidayguide.com are among our favourites, outlining all of the upcoming events taking place across the world that can be incorporated into your social media content. Each awareness day usually comes with its own hashtag that can help your posts get seen by an even larger audience and introduce your brand to some new prospective fans.
Everything in One Place
With a logical and orderly content planner, you can view all of your imminent posts together in one place, covering all of your brand's social media accounts. We always recommend tailoring your content to match the tone and requirements of each platform, so preparing a schedule can help minimise the risk of repetition and will ensure best practices are followed. This multi-platform approach also lets you preview how your posts will appear on each site or app, allowing you to tweak any unsuitable copy and resize any ill-fitting imagery.
Need an easy way to plan and schedule content across all of your social media accounts? Download and try our free social media content calendar today: https://t.co/nAVCXnrvDp

— HubSpot Academy (@HubSpotAcademy) March 5, 2021
Designed Media
Scheduling content in advance gives you, or your creative team, time to assemble branded assets to accompany each post - such as graphics, GIFs and video clips. Although attaching a simple, untouched photo is often sufficient, there are cases where designed imagery can really add an extra dimension to your social content and make it stand out from the crowd. By sending briefs and detailing the media that needs to be produced, you're able to streamline the creative process and distribute content that's not only interesting to read but visually appealing too.
Edits, Changes and Updates
Unlike posting on the go, scheduling content enables you to edit posts before they're published. Competition T&Cs changed at the last minute? Product no longer in stock? Made a spelling error? No problem - with software like Sprout Social, it's quick and easy to amend your scheduled copy and imagery, avoiding the awkwardness of having to delete and repost incorrect content that may have already been seen by your followers.
Need to edit a scheduled message? Simply hover over the post, click the pencil, and make the necessary changes. #SproutTip

— Sprout Social (@SproutSocial) April 11, 2012
Summary
Content creation can be fun, innovative and engaging, but posting haphazardly can give your brand a disorganised image online and can render your marketing efforts ineffective. Save time and stay ahead of the game with a steady schedule that shows off your business in its best light. Need a hand? Read about our Social Media Services to learn how we can help.